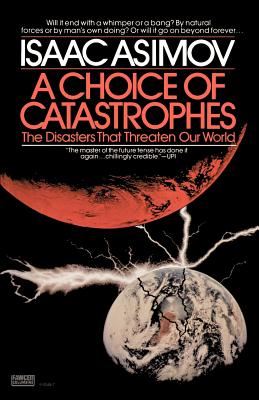 A Choice of Catastrophes: The Disasters That Threaten Our World (Paperback)
The Disasters That Threaten Our World
Ballantine Books, 9780449900482, 380pp.
Publication Date: September 12, 1981
Description
Isaac Asimov, scientist, author, and Earth-dweller, explores the many potential natural and man-made catastrophes that could change life as we know it, or erase us from the face of the Earth. Natural properties and laws might change at any time, rendering life on this planet--or anywhere in the universe--impossible. But the disasters that are most imminent are in our power to control--technology, nuclear warfare, pollution. Natural forces far more powerful than man might destroy us. Or they may have nothing to do with bringing about the end. "The master of the future tense has done it again. . . . Chillingly credible."--UPI
About the Author
Isaac Asimov began his Foundation series at the age of 21, not realizing that it would one day be considered a cornerstone of science fiction. During his legendary career, Asimov penned over 470 books on subjects ranging from science to Shakespeare to history, though he was most loved for his award-winning science fiction sagas, which include the Robot, Empire, and Foundation series. Named a Grand Master of Science Fiction by the Science Fiction and Fantasy Writers of America, Asimov entertained and educated readers of all ages for close to five decades. He died, at the age 72, in April 1992.
Advertisement