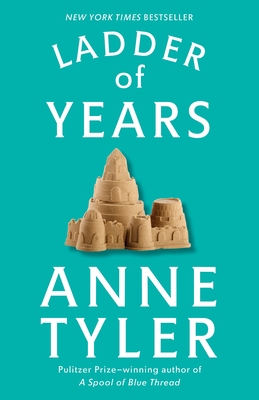 Ladder of Years (Paperback)
Vintage, 9780449910573, 336pp.
Publication Date: March 26, 1996
Description
A NEW YORK TIMES NOTABLE BOOK
BALTIMORE WOMAN DISAPPEARS DURING FAMILY VACATION, declares the headline. Forty-year-old Delia Grinstead is last seen strolling down the Delaware shore, wearing nothing more than a bathing suit and carrying a beach tote with five hundred dollars tucked inside. To her husband and three almost-grown children, she has vanished without trace or reason. But for Delia, who feels like a tiny gnat buzzing around her family's edges, "walking away from it all" is not a premeditated act, but an impulse that will lead her into a new, exciting, and unimagined life . . . .
"TYLER DETAILS DELIA'S ADVENTURE WITH GREAT SKILL . . . As so often in her earlier fiction--Celestial Navigation, Dinner at the Homesick Restaurant, The Accidental Tourist, and her nine other novels-- she] creates distinct characters caught in poignantly funny situations. . . .Tyler writes with a clarity that makes the commonplace seem fresh and the pathetic touching."
--The New York Times
"UTTERLY COMPELLING. . .WONDERFULLY SATISFYING. . .Ladder of Years is virtually flawless."
--Chicago Tribune
"A 'PAGE-TURNER' IN THE BEST SENSE . . . One wants to lightly caress the pages of the story because one cares for Ms. Tyler's touchingly flawed characters. . . . Both madcap and genteel, Anne Tyler knows as well as anyone that 'human beings lead many lives.' Casually, delightfully, Ladder of Years will tell you just how we humans manage this trick."
--The Baltimore Sun.
About the Author
Anne Tyler was born in Minneapolis, Minnesota, in 1941, but grew up in Raleigh, North Carolina. She graduated at nineteen from Duke University and went to do graduate work in Russian studies at Columbia University. Anne Tyler has written thirteen novels. Breathing Lessons was awarded the Pulitzer Prize in 1988. She is a member of the American Academy and Institute of Arts and Letters. She and her husband, Taghi Modarressi, live in Baltimore, Maryland.
Advertisement