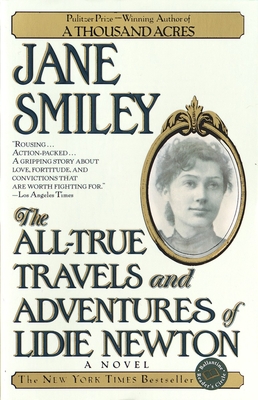 The All-True Travels and Adventures of Lidie Newton (Paperback)
Ballantine Books, 9780449910832, 480pp.
Publication Date: December 29, 1998
Description
THE NEW YORK TIMES BESTSELLER
Pulitzer Prize-winning author of A Thousand Acres
"Rousing . . . Action-packed . . . A gripping story about love, fortitude, and convictions that are worth fighting for." --Los Angeles Times
A NEW YORK TIMES NOTABLE BOOK
"POWERFUL . . . Smiley takes us back to Kansas in 1855, a place of rising passions and vast uncertainties. Narrated in the spirited, unsentimental voice of 20-year-old Lidie Newton, the novel is at once an ambitious examination of a turning point in history and the riveting story of one woman's journey into uncharted regions of place and self." --Chicago Tribune
" A] grand tale of the moral and political upheavals igniting antebellum frontier life and a heroine so wonderfully fleshed and unforgettable you will think you are listening to her story instead of reading it. Smiley may have snared a Pulitzer for A Thousand Acres . . . but it is with Lydia (Lidie) Harkness Newton that she emphatically captures our hearts. . . . The key word in Smiley's title is Adventures, and Lydia's are crammed with breathless movement, danger, and tension; populated by terrifically entertaining characters and securely grounded in telling detail." --The Miami Herald
"SMILEY BRILLIANTLY EVOKES MID-19TH-CENTURY LIFE. . . . Richly imagined and superbly written, Jane Smiley's new novel is an extraordinary accomplishment in an already distinguished career." --Atlanta Journal-Constitution
"A SPRAWLING EPIC . . . A garrulous, nights-by-the-hearth narrative not unlike those classics of the period it emulates. In following a rebellious young woman of 1855 into Kansas Territory and beyond, the novel is so persuasively authentic that it reads like a forgotten document from the days of Twain and Stowe." --The Boston Sunday Globe
"CONSISTENTLY ENTERTAINING, FILLED WITH ACTION AND IDEAS." --The New York Times Book Review
"ENGAGING . . . A] HARROWING ADVENTURE . . . This picaresque tale presents a series of remarkable characters, particularly in the inexperienced narrator, whose graphic descriptions of travel and domestic life before the Civil War strip away romantic notions of simpler times. . . . Smiley has created an authentic voice in this struggle of a young woman to live simply amid a swirl of deadly antagonism." --The Christian Science Monitor
"A fine historical novel that describes a fascinating time and place . . . It is both funny and subtle, rich in ideas . . . Smiley has created a better all-around piece of fiction than any of her previous work, including the Pulitzer Prize-winning A Thousand Acres." --The Wall Street Journal
"Smiley is a writer of rare versatility who travels widely in her creative endeavors. She proved her mastery of both short fiction and the novel with three sterling works (The Age of Grief, Ordinary Love and Good Will, and A Thousand Acres); her fondness for history had already been established with The Greelanders. In 1995, she successfully extended her repertoire to comedy with the hilarious academic satire Moo. What her new novel shares with all these works is its authorial intelligence." --The Boston Sunday Globe

"Jane Smiley is nothing if not protean, a literary ventriloquist of incredible range. . . . This is a novel that manages to combine the evocative storyteller's voice with the moviemaker's sense of drama and visuals, an old-fashioned tale told with contemporary steam and panache." --The Philadelphia Inquirer
"Not only is this a rollicking feminist tale of a woman who can handle herself in the thick of the Kansas Wars, The All-True Travels and Adventures of Lidie Newton is also a coming of age story as well as a lasting portrait of the genuinely tumultuous time just before the Civil War." --The Raleigh News & Observer
"A tale of love and war, revenge and betrayal, Smiley's fictional memoir invites comparisons with Gone with the Wind, even War and Peace. . . . Lidie Newton has the ring of honesty and truth. It also carries the stamp of its author's historical sense, stylistic verve, and moral passion." --St. Louis Post-Dispatch
"Full of the same arresting authenticity of detail that carried A Thousand Acres." --New York Daily News
"LIDIE IS AN UNFORGETTABLE CHARACTER . . .
The All-True Travels is a showcase for Smiley's range and dexterity, dead-on in its emotional impact and resonant in the painful truths it conveys." --San Diego Union-Tribune
"Rendered in sharply lucid prose and filled with wonderful period detail . . . Lidie's story reads like a long and various dream, brightly colored and brilliantly observed--a journey into a world as troubled, ambiguous, and full of life as our own." --Chicago Tribune
"An adventure story, full of suspense, near-misses, and coincidence . . . The first and sustaining marvel of Smiley's] new novel is Lydia Newton's voice: grounded in 19th-century reserve, yet honest, self-aware, and curious." --Toronto Globe & Mail
"Smiley nabbed a Pulitzer for A Thousand Acres. This stunning new effort should win equally thunderous acclaim." --Mademoiselle
"An immensely appealing heroine, a historical setting conveyed with impressive fidelity and a charming and poignant love story make Smiley's new novel a sure candidate for bestseller longevity. . . . Propelled by Lidie's spirited voice, this narrative is packed with drama, irony, historical incident, moral ambiguities, and the perception of human frailty. . . . This novel performs all the functions of superior fiction: in reading one woman's moving story, we understand an historical epoch, the social and political conditions that produced it, and the psychological, moral, and economic motivations of the people who incited and endured its violent confrontations." --Publishers Weekly (starred review)
"Gloriously detailed and brilliantly told, this is a hugely entertaining, illuminating, and sagacious vision of a time of profound moral and political conflict, and of one woman's coming to terms with the perilous, maddening, and precious world." --Booklist (starred review)
"Smiley scales another peak with this bighearted and thoughtful picaresque novel. . . . A] richly entertaining saga of a woman who might have been well matched with Thomas Berger's Little Big Man, and whom Huck Finn would have been proud to claim as his big sister." --Kirkus Reviews (starred review)
"HER FINEST WORK YET . . . Resembling a cross between the writing of Jane Austen, Stephen Crane, and Mark Twain . . . A fast-paced historical ride through a defining moment in our nation's history as seen through the eyes of a remarkable woman. . . . Smiley's biggest triumph is in the character of Lidie. One can actually 'see' her growth throughout the story as Lidie learns about the ambiguity of human morality--and that true justice is rarely served." --San Antonio Express-News
"Highly recommended . . . Trust Smiley to take a situation charged with both social significance and novelistic opportunity and ride it for all its worth. . . . Smiley gives us a rich lode of historical detail yet keep the story moving, so that it seems to flow by like a river while at the same time yielding up its riches in leisurely fashion." --Library Journal (starred review)
"Like Cold Mountain and Beloved--and with more than a casual nod to Mark Twain--this sprawling saga by the Pulitzer-winning author of A Thousand Acres connects readers to the historical issues of the time." --Glamour
"Our heroine is a horse-riding, river-swimming, plain-faced young woman with a distinctly well-calibrated mind of her own." --The Baltimore Sun
"A long, wild adventure . . . Lidie never loses her pluck, and her story becomes both a rich homage to Adventures of Huckleberry Finn and a thrilling variation on the derring-do of Lonesome Dove." --Outside magazine
" A] gripping, epic new novel . . . The All-True Travels is consistently absorbing, thanks in large part to the strong, vibrant voice of the unforgettable Lidie Newton." --Good Housekeeping
"Packed with action in a setting worthy of a Western shoot-'em-up." --Newark Star-Ledger

"ROUSING . . . ACTION-PACKED . . . A gripping story about love, fortitude, and convictions that are worth fighting for regardless of the outcome. . . . The voice Smiley creates for her sympathetic and wonderfully human heroine is sharp, engaging, wry, and wise." --Los Angeles Times
About the Author
Jane Smiley is the author of eight previous works of fiction, including The Age of Grief, The Greenlanders, Ordinary Love & Good Will, A Thousand Acres (which won the Chicago Tribune Heartland Prize, the National Book Critics Circle Award, and the Pulitzer Prize), and Moo. She lives in northern California. From the Hardcover edition.
Advertisement