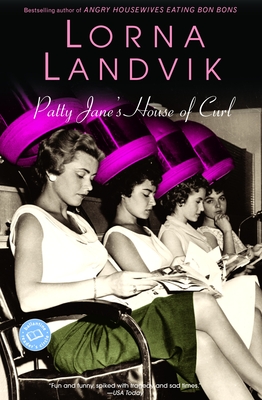 Patty Jane's House of Curl (Paperback)
Ballantine Books, 9780449911006, 320pp.
Publication Date: September 3, 1996
* Individual store prices may vary.
Description
Patty Jane Dobbin should have known better than to marry a man as gorgeous as Thor Rolvaag, but she was too smitten to think twice. Yet nine months into their marriage, with a baby on the way, Thor is gone. It's a good thing Patty Jane has her irrepressible sister, Harriet, to rely on. For it's been said that a fine haircut can cure any number of ills, and before long the Minnesota sisters have opened a neighborhood beauty parlor complete with live harp music and an endless supply of delicious Norwegian baked goods. It's a wonderful, warmhearted place where you can count on good friends, lots of laughter, tears, and comfort when you need it—and the unmistakable scent of somebody getting a permanent wave. . . .
About the Author
Lorna Landvik is also the author of the bestselling Your Oasis on Flame Lake and the upcoming The Tall Pine Polka. She has worked as an actor, a comedian, and a speed typist in the 1984 Los Angeles Olympics. She lives with her husband, two daughters, and their dog, Petunia.
Praise For Patty Jane's House of Curl…
"Fun and funny, spiked with tragedy and sad times."
—USA Today

"A FUNNY, POIGNANT FIRST NOVEL ABOUT THE BONDS BETWEEN WOMEN."
—Houston Chronicle

"Patty Jane's House of Curl has the emotional warmth of Lake Wobegon and the tender/tough female characters who populated Fried Green Tomatoes. . . . A unique story."
—St. Paul Pioneer Press

"WARM, TENDER, ULTIMATELY INSPIRATIONAL."
—West Coast Review of Books

"HOMESPUN WISDOM PEPPERS EVERY PAGE."
—Publishers Weekly

"Lorna Landvik stands by her characters . . . embracing their eccentricities, delighting in their accomplishments, forgiving them their failings. She knows these people and loves them—and gives us their story with uncommon wit and charm and, best of all, a wonderful sense of mischief."
—STEVEN ZAILLIAN
Oscar-winning writer of
the screenplay for Schindler's List

"Patty Jane's House of Curl is the story of women 'who were lucky enough to find a place where they could not only talk, but be heard.' Like Ione's famous coffee cakes, the frosting may be treacle-sweet, but underneath there's something substantial."
—The Dallas Morning News

"This book is worth reading and rereading. . . . Landvik evokes female bonding and tragedy in a humorous way."
—The Register-Herald (West Virginia)

"Funny and romantic . . . Peopled with characters so real, so warm, so funny, the book could be a Northern Exposure in print. . . . Readers will be reminded that this is what it is like to live."
—The Stuart News

"A cast of characters funny, sad, and real. You can't help but laugh and shed a tear. Has been compared to Fannie Flagg's Fried Green Tomatoes at the Whistle Stop Cafe, but for Midwesterners it holds a special appeal with a terrific sense of place."
—BookWomen (Minnesota)

"Amazingly vivid . . . This novel breezes merrily along, but don't read it without a hankie. This is a winner for fans of Garrison Keillor and Danielle Steel."
—Library Journal