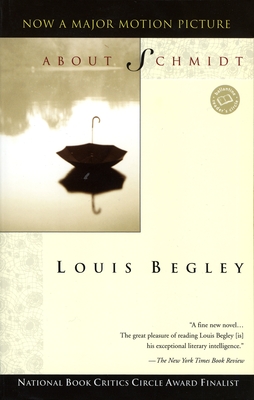 About Schmidt (Paperback)
A Novel
Ballantine Books, 9780449911167, 304pp.
Publication Date: September 8, 1997
* Individual store prices may vary.
Description
"A fine new novel... The great pleasure of reading Louis Begley [is] his exceptional literary intelligence."
The New York Times Book Review

"Begley again demonstrates that he can reveal the complexities of society and personality with a clear eye and graceful style... Morethan meets the requirements of graceful fiction."
Time

Proud, traditional, and impeccably organized, Albert Schmidt is a button-down lawyer of the old school.  But now, after years of carefulmanagement, his life is slowly unraveling.  His beloved wife has recently died.  He stumbles--or is he being pushed?--into earlyretirement.  And his daughter, his only child, is planning to marry a man Schmidt cannot approve of, for reasons he can scarcely admit, even to himself.  As Schmidt gropes for resolutions, he finds unexpected hope in an intense passion that comes out of the blue.

Set in the Hamptons and Manhattan, infused with black humor and startling eroticism, About Schmidt is both a meditation on lonelinessand on the power of romance to unlock the most impenetrable recesses of the heart.

"Comical, tough, unsparing; it is as if Louis Auchincloss had exchanged the kid gloves for brass knuckles... Interesting and nervy."
The Washington Post Book World

"A powerful story of a man's fall from grace... The Remains of the Day come[s] to mind."
Publishers Weekly (starred review)

"Stunning."
Los Angeles Times Book Review
About the Author
Louis Begley is the author of four novels. Wartime Lies, which was written when he was in his mid-fifties, was followed by The Man Who Was Late, As Max Saw It, and About Schmidt. He is currently finishing a fifth novel.  Begley has another life, that of a lawyer. He is a senior partner at Debevoise & Plimpton, one of America's most prestigious firms, and is the head of its international practice.

Wartime Lies was the winner of the PEN Hemingway Award, The Irish Times Aer Lingus International Prize, and the Prix Medicis Etranger, France's most coveted prize for fiction in translation. It was a National Book Award, Los Angeles Times Book Award, and National Book Critics' Circle Award finalist. About Schmidt was likewise a National Book Critics' Circle Award and Los Angeles Times Book Award finalist. Begley has received the American Academy of Letters prize for literature and numerous other awards.

Begley was born in Stryj, a town that was Polish and is now part of Ukraine, in 1933. Being Jewish, he survived the German occupation by pretending, with the help of false identification papers, to be a Catholic Pole.

Begley and his parents left Poland in 1946 and settled in New York in 1947. Begley graduated from Harvard College in 1954, and after having served in the U.S. army, from Harvard Law School in 1959.

Since 1974, Begley has been married to Anka Muhlstein, a prize-winning French author of biographies and other historical works. The combined family includes five grown children. His are a painter and sculptor, a book critic, and an art historian. Hers are a foreign relations specialist and a television journalist.
Praise For About Schmidt: A Novel…
"Novels are supposed to tell something about the real world, but in most
novels about the upper classes money figures only in the decor, the things
that money can buy. Begley's books have the great virtue of knowing about
money itself, how it's acquired and kept.... Begley's previous books
gravitated rather anxiously toward Europe, which was seen as the source
both of any satisfactory culture and of appalling historical and personal
tragedy. About Schmidt turns toward America and the present, exchanging an
interest in suffering and failure, with its dangerous possibilities of
self-magnification, for comic romance, with its emphasis not on finality
but on life going on anyway."

--The New York Review of Books


"Albert Schmidt is another of Begley's brilliant impostors, though this
time an impostor unaware of his charade. He is the cultivated man--out of
Harvard, no less--unable to acknowledge his subtle strain of
Jew-hating.... About Schmidt amounts to an intriguing about-face for
Begley.... By blinding his flawed hero, Begley has painted an indelible
portrait of a man with a hole where his soul should be."

--Newsday


"What emerges... is a poignant study of aging centered on a man whose
flaws become both sinister and sympathetic. In an era of encroaching
coarseness, where civility dissolves... Schmidt summons in us remembrance
of elegance past.... Is he a cultured patrician, a supercilious snob or
both? Whichever he is, Begley succeeds wonderfully in making us care."

--San Francisco Chronicle


"Consistently subtle and intelligent, this novel ends by getting under
your skin despite the unlikability of its protagonist. You are left with
the feeling of having found out the complex truth behind the impeccable
facade of someone you might never notice if you met him at a party."

--The New York Times Book Review


"If the sorrows of old 'Schmidtie' strike us as somewhat short of fully
tragic, less than deeply moving, it's clearly intentional; Begley means
for us to keep our distance--to withhold our sympathies--from his smug,
officious hero.... It's this that makes Begley's novel most interesting
and nervy."

--Washington Post/Book World


"In the end, Begley has created a terribly funny, touching, infuriating
and complex character in Schmidt, whose self-deceptions and imprisonment
by his own world-view stand not only as a devastating portrait of a
disappearing world but also sound a strangely evocative cautionary tale."

--Los Angeles Times Book Review


"In what could be called a novel of bad manners, Begley again demonstrates
that he can reveal the complexities of society and personality with a
clear eye and graceful style. Schmidt may not live up to today's strict
standards of political correctness, but he more than meets the
requirements of convincing fiction."

--Time