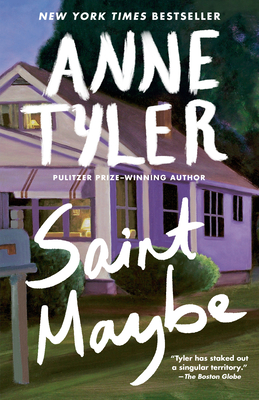 Saint Maybe (Paperback)
Vintage, 9780449911600, 352pp.
Publication Date: August 27, 1996
* Individual store prices may vary.
or
Not Currently Available for Direct Purchase
Description
9 weeks on the New York Times bestseller list
"A novel that attests once again to Ms. Tyler's enormous gifts as a writer."
--THE NEW YORK TIMES
"Captivating . . . . Compelling . . . . There is a kind of magic at work in this novel."
--THE WASHINGTON POST BOOK WORLD
In 1965, the happy Bedloe family is living an ideal, apple-pie existence in Baltimore. Then, in the blink of an eye, a single tragic event occurs that will transform their lives forever--particularly that of seventeen-year-old Ian Bedloe, the youngest son, who blames himself for the sudden "accidental" death of his older brother.
Depressed and depleted, Ian is almost crushed under the weight of an unbearable, secret guilt. Then one crisp January evening, he catches sight of a window with glowing yellow neon, the CHURCH OF THE SECOND CHANCE. He enters and soon discovers that forgiveness must be earned, through a bit of sacrifice and a lot of love...
A New York Times Notable Book.
About the Author
ANNE TYLER was born in Minneapolis, Minnesota, in 1941 and grew up in Raleigh, North Carolina. She graduated at nineteen from Duke University and went on to do graduate work in Russian Studies at Columbia University. Tyler is the author of twenty novels; and her eleventh, Breathing Lessons, was awarded the Pulitzer Prize in 1989. She is a member of the American Academy of Arts and Letters. She lives in Baltimore Maryland.
Praise For Saint Maybe…
"Anne Tyler, who is blessedly prolific and graced with an effortless-seeming talent at describing whole rafts of intricately individualized people, might be described as a domestic novelist, one of that great line descending from Jane Austen...Her eye is kindly, wise and versatile (an eye that you would want on your jury if you ever had to stand trial), and after going at each new set of characters with authorial eagerness and an exuberant tumble of details, she tends to arrive at a set of conclusions about them that is a sort of golden mean."

-- Edward Hoagland, The New York Times

"With her extraordinary talents Anne Tyler can crush the heart with the hopelessness of life on one page and lift it with love and humor on the next. Now, in her eleventh novel, Breathing Lessons, she explores in one Baltimore marriage the resilient spirit that rescues us from moments of despair."

-- Lee Lescaze, The Wall Street Journal
Advertisement