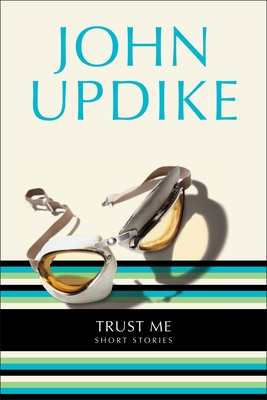 Trust Me: Short Stories (Paperback)
Short Stories
Random House Trade, 9780449912171, 320pp.
Publication Date: August 27, 1996
Description
The theme of trust, betrayed or fulfilled, runs through this collection of short stories: Parents lead children into peril, husbands abandon wives, wives manipulate husbands, and time undermines all. Love pangs, a favorite subject of the author, take on a new urgency as earthquakes, illnesses, lost wallets, and deaths of distant friends besiege his aging heroes and heroines. One man loves his wife's twin, and several men love the imagined bliss of their pasts; one woman takes an impotent lover, and another must administer her father's death. Bourgeois comforts and youthful convictions are tenderly seen as certain to erode: "Man," as one of these stories concludes, "was not meant to abide in paradise."
About the Author
John Updike was born in Shillington, Pennsylvania, in 1932. He graduated from Harvard College in 1954 and spent a year in Oxford, England, at the Ruskin School of Drawing and Fine Art. From 1955 to 1957 he was a member of the staff of The New Yorker. His novels have won the Pulitzer Prize, the National Book Award, the National Book Critics Circle Award, the Rosenthal Foundation Award, and the William Dean Howells Medal. In 2007 he received the Gold Medal for Fiction from the American Academy of Arts and Letters. John Updike died in January 2009.
Praise For Trust Me: Short Stories…
"The plainest of objects and events bloom in these stories as if they had at last found their proper climate. . . . I find myself searching for language to describe the very palpable pleasure that comes with experiencing in a writer authority and also humor and elegance and honesty and generosity of spirit."—Marilynne Robinson, The New York Times Book Review
 
"It is in his short stories that we find Updike's most assured work. . . . And almost without fail they give pleasure, a quality not to be taken lightly."—The Washington Post Book World
 
"Dazzling . . . We certainly can trust him—we are in very good hands."—The New York Times
Advertisement