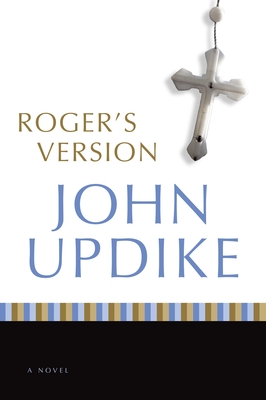 Roger's Version (Paperback)
Random House Trade, 9780449912188, 352pp.
Publication Date: August 27, 1996
Description
As Roger Lambert tells it, he, a middle-aged professor of divinity, is buttonholed in his office by Dale Kohler, an earnest young computer scientist who believes that quantifiable evidence of God's existence is irresistibly accumulating. The theological-scientific debate that ensues, and the wicked strategies that Roger employs to disembarrass Dale of his faith, form the substance of this novel these and the current of erotic attraction that pulls Esther, Roger's much younger wife, away from him and into Dale's bed. The novel, a majestic allegory of faith and reason, ends also as a black comedy of revenge, for this is Roger's version Roger Chillingworth's side of the triangle described by Hawthorne's Scarlet Letter made new for a disbelieving age.
About the Author
John Updike was born in Shillington, Pennsylvania, in 1932. He graduated from Harvard College in 1954 and spent a year in Oxford, England, at the Ruskin School of Drawing and Fine Art. From 1955 to 1957 he was a member of the staff of The New Yorker. His novels have won the Pulitzer Prize, the National Book Award, the National Book Critics Circle Award, the Rosenthal Foundation Award, and the William Dean Howells Medal. In 2007 he received the Gold Medal for Fiction from the American Academy of Arts and Letters. John Updike died in January 2009.
Praise For Roger's Version…
"Remarkably interesting . . . One finishes it with . . . renewed respect for one of the most intelligent and resourceful of contemporary novelists."—David Lodge, The New York Times Book Review
 
"Wonderful reading from beginning to end . . . The precise, laconic bull's-eye descriptive passages in this novel continually amaze with their absolute accuracy."—San Francisco Chronicle
 
"Wonderfully tricky and nakedly sharp-minded . . . Updike's Roger Lambert is a perfectly 20th-century beast—boastfully wicked in all directions."—The Washington Post Book World
Advertisement