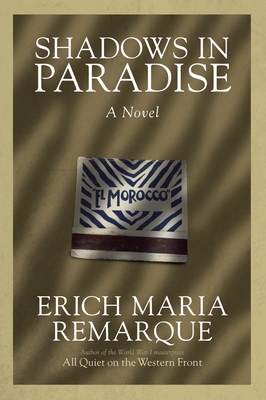 Shadows in Paradise (Paperback)
Random House Trade Paperbacks, 9780449912485, 400pp.
Publication Date: June 9, 1998
* Individual store prices may vary.
or
Not Currently Available for Direct Purchase
Description
A haunting classic from the author of All Quiet on the Western Front, Shadows in Paradise reveals the deepest scars of the men and women who experienced the Holocaust.
After years of hiding and surviving near death in a concentration camp, Ross is finally safe. Now living in New York City among old friends, far from Europe's chilling atrocities, Ross soon meets Natasha, a beautiful model and fellow emigre, a warm heart to help him forget his cold memories.
Yet even as the war draws to its violent close, Ross cannot find peace. Demons still pursue him. Whether they are ghosts from the past or the guilt of surviving, he does not know. For he is only beginning to understand that freedom is far from easy and that paradise, however perfect, has a price.

The world has a great writer in Erich Maria Remarque. He is a craftsman of unquestionably first rank, a man who can bend language to his will. Whether he writes of men or of inanimate nature, his touch is sensitive, firm, and sure. The New York Times Book Review
About the Author
Erich Maria Remarque, who was born in Germany, was drafted into the German army during World War I. Through the hazardous years following the war he worked at many occupations: schoolteacher, small-town drama critic, race-car driver, editor of a sports magazine. His first novel, All Quiet on the Western Front, was published in Germany in 1928. A brilliant success, selling more than a million copies, it was the first of many literary triumphs. When the Nazis came to power, Remarque left Germany for Switzerland. He rejected all attempts to persuade him to return, and as a result he lost his German citizenship, his books were burned, and his films banned. He went to the United States in 1938 and became a citizen in 1947. He later lived in Switzerland with his second wife, the actress Paulette Goddard. He died in September 1970.
Praise For Shadows in Paradise…
"The world has a great writer in Erich Maria Remarque. He is a craftsman of unquestionably first rank, a man who can bend language to his will. Whether he writes of men or of inanimate nature, his touch is sensitive, firm, and sure."—The New York Times Book Review
Advertisement