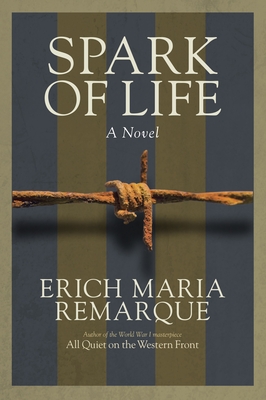 Spark of Life (Paperback)
Ballantine Books, 9780449912515, 365pp.
Publication Date: April 1, 2014
Description
In Spark of Life, a powerful classic from the renowned author of All Quiet on the Western Front, one man's dream of freedom inspires a valiant resistance against the Nazi war machine.
For ten years, 509 has been a political prisoner in a German concentration camp, persevering in the most hellish conditions. Deathly weak, he still has his wits about him and he senses that the end of the war is near. If he and the other living corpses in his barracks can hold on for liberation or force their own then their suffering will not have been in vain.
Now the SS who run the camp are ratcheting up the terror. But their expectations are jaded and their defenses are down. It is possible that the courageous yet terribly weak prisoners have just enough left in them to resist. And if they die fighting, they will die on their own terms, cheating the Nazis out of their devil's contract.

The world has a great writer in Erich Maria Remarque. He is a craftsman of unquestionably first rank, a man who can bend language to his will. Whether he writes of men or of inanimate nature, his touch is sensitive, firm, and sure. The New York Times Book Review
About the Author
Erich Maria Remarque, who was born in Germany, was drafted into the German army during World War I. Through the hazardous years following the war he worked at many occupations: schoolteacher, small-town drama critic, race-car driver, editor of a sports magazine. His first novel, All Quiet on the Western Front, was published in Germany in 1928. A brilliant success, selling more than a million copies, it was the first of many literary triumphs. When the Nazis came to power, Remarque left Germany for Switzerland. He rejected all attempts to persuade him to return, and as a result he lost his German citizenship, his books were burned, and his films banned. He went to the United States in 1938 and became a citizen in 1947. He later lived in Switzerland with his second wife, the actress Paulette Goddard. He died in September 1970.
Praise For Spark of Life…
"The world has a great writer in Erich Maria Remarque. He is a craftsman of unquestionably first rank, a man who can bend language to his will. Whether he writes of men or of inanimate nature, his touch is sensitive, firm, and sure."—The New York Times Book Review
Advertisement