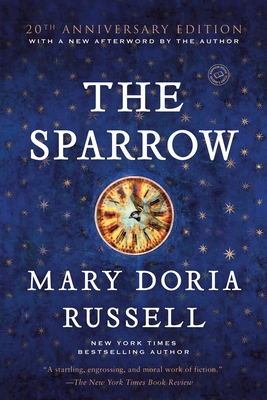 The Sparrow (Paperback)
A Novel (The Sparrow Series #1)
Ballantine Books, 9780449912553, 528pp.
Publication Date: September 8, 1997
Other Editions of This Title:
MP3 CD (4/4/2008)
MP3 CD (3/10/2015)
Compact Disc (4/4/2008)
Compact Disc (4/4/2008)
MP3 CD (4/4/2008)
* Individual store prices may vary.
Description
A visionary work that combines speculative fiction with deep philosophical inquiry, The Sparrow tells the story of a charismatic Jesuit priest and linguist, Emilio Sandoz, who leads a scientific mission entrusted with a profound task: to make first contact with intelligent extraterrestrial life. The mission begins in faith, hope, and beauty, but a series of small misunderstandings brings it to a catastrophic end.
 
Praise for The Sparrow
 
"A startling, engrossing, and moral work of fiction."—The New York Times Book Review
 
"Important novels leave deep cracks in our beliefs, our prejudices, and our blinders. The Sparrow is one of them."—Entertainment Weekly
 
"Powerful . . . The Sparrow tackles a difficult subject with grace and intelligence."—San Francisco Chronicle
 
"Provocative, challenging . . . recalls both Arthur C. Clarke and H. G. Wells, with a dash of Ray Bradbury for good measure."—The Dallas Morning News
 
"[Mary Doria] Russell shows herself to be a skillful storyteller who subtly and expertly builds suspense."—USA Today
About the Author
Mary Doria Russell has been called one of the most versatile writers in contemporary American literature. Widely praised for her meticulous research, fine prose, and compelling narrative drive, she is the New York Times bestselling and award-winning author of The Sparrow, Children of God, A Thread of Grace, Dreamers of the Day, Doc, and Epitaph. Dr. Russell holds a Ph.D. in biological anthropology. She lives in Lyndhurst, Ohio.
Praise For The Sparrow: A Novel (The Sparrow Series #1)…
"A startling, engrossing, and moral work of fiction."—The New York Times Book Review
 
"Important novels leave deep cracks in our beliefs, our prejudices, and our blinders. The Sparrow is one of them."—Entertainment Weekly
 
"Powerful . . . The Sparrow tackles a difficult subject with grace and intelligence."—San Francisco Chronicle
 
"Provocative, challenging . . . recalls both Arthur C. Clarke and H. G. Wells, with a dash of Ray Bradbury for good measure."—The Dallas Morning News
 
"[Mary Doria] Russell shows herself to be a skillful storyteller who subtly and expertly builds suspense."—USA Today