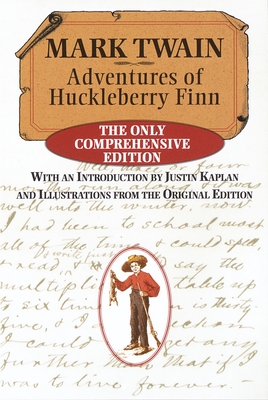 The Adventures of Huckleberry Finn (Paperback)
Ballantine Books, 9780449912720, 448pp.
Publication Date: March 18, 1997
Other Editions of This Title:
Paperback (11/27/2013)
Paperback (1/31/2018)
Paperback (7/27/2016)
Paperback (4/17/2014)
Paperback (12/25/2016)
Paperback (8/25/2017)
Paperback (2/27/2018)
Paperback (8/6/2016)
Paperback (3/1/2001)
Paperback (4/1/2013)
Paperback (11/24/2011)
Paperback (3/4/2009)
Paperback (11/1/2016)
Paperback (10/13/2017)
Paperback (10/19/2013)
Paperback (5/4/2016)
Paperback (11/28/2017)
Paperback (3/23/2016)
Paperback (9/17/2017)
Paperback (1/16/2014)
* Individual store prices may vary.
Description
"A GOLD MINE FOR SCHOLARS."

*Deidre Carmody

The New York Times



Now, in this extraordinary literary discovery, the original first half of Mark Twain's American masterpiece is available for the first time ever to a general readership. Lost for more than a century, the passages reinstated in this edition reveal a novel even more controversial than the version Twain published in 1885, and provide an invaluable insight into his creative process.



The changes that Mark Twain made indicate that he frequently checked his impulse to write an even darker, more confrontational work than the book he finally published. Even in its smallest variations, the original manuscript demonstrates the skill, the restraint, and the constraints that affected Mark Twain's thinking. This edition, then, not only presents the Huckleberry Finn that has delighted and provoked readers everywhere for more than a century, but also brings forward the original book behind the book.



A breakthrough of unparalleled impact, this comprehensive edition of an American classic is the final rebuttal in the tireless debate of "what Mark Twain really meant."



"[A] masterly restoration . . . I wish this new version of Huckleberry Finn would be distributed to all the nation's classrooms as the basic text and lead to a badly needed reconsideration of the questions it raises."

*James A. McPherson

Chicago Tribune



"Thoughtfully respects Twain's intentions."

*Gary Lee Stronum

The Cleveland Plain Dealer



With a foreword and addendum by Victor Doyno
About the Author
George Saunders, who was chosen in 1999 by The New Yorker as one of the twenty best American fiction writers age forty and under, is the award-winning author of several books of fiction and nonfiction, including CivilWarLand in Bad Decline and The Very Persistent Gappers of Frip. He teaches in the creative writing program at Syracuse University.
Praise For The Adventures of Huckleberry Finn…
"All modern American literature comes from one book by Mark Twain called Huckleberry Finn. It's the best book we've had." --Ernest Hemingway
or
Not Currently Available for Direct Purchase