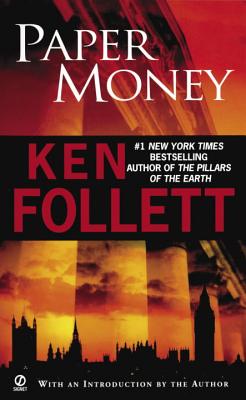 Paper Money (Paperback)
A Novel
Penguin Books, 9780451167309, 272pp.
Publication Date: October 6, 1987
* Individual store prices may vary.
Description
An explosive novel of high finance and underworld villainy from Ken Follett, the grand master of international action and suspense. Look out for Ken's newest book, A Column of Fire, available now.

Crime, high finances, and journalism are interconnected in this early thriller by the author of On Wings of Eagles and Lie Down With Lions. In one suspenseful, action-packed day, fortunes change hands as an ambitious young reporter scrambles to crack the story. A suicidal junior minister, an avaricious tycoon, and a seasoned criminal with his team of tough guys all play their parts in a scheme that moves "paper money" around at a dizzying pace.
About the Author
Ken Follett is one of the world's best-loved authors, selling more than 160 million copies of his thirty books. Follett's first bestseller was Eye of the Needle, a spy story set in the Second World War. 
In 1989 The Pillars of the Earth was published, and has since become the author's most successful novel. It reached number one on bestseller lists around the world and was an Oprah's Book Club pick.
 
Its sequels, World Without End and A Column of Fire, proved equally popular, and the Kingsbridge series has sold 38 million copies worldwide.
 
Follett lives in Hertfordshire, England, with his wife Barbara. Between them they have five children, six grandchildren, and three Labradors. 
Praise For Paper Money: A Novel…
Praise for the novels of Ken Follett

"[A] celebration of uncommon courage and unlikely heroes." —People

"Great entertainment." —The Baltimore Sun

"Gripping." —The New York Times

"Follett ratchets up the Richter scale of suspense." —USA Today

"Follett really knows how to tell a story." —The Atlanta Journal-Constitution

"His scenes whip along. And his ending is absolutely smashing." —The Virginian-Pilot

"An altogether entertaining reading experience." —Minneapolis Star Tribune

"A terrific page-turner. Careening thrills . . . telling historical detail . . . genuine surprises." —Los Angeles Times

"Sheer suspense." —The Washington Post

"Absolutely electric with suspense." —San Francisco Chronicle

"Ken Follett has done it once more . . . goes down with the ease and impact of a well-prepared martini." —The New York Times Book Review

"The most exciting novel in years." —The Cincinnati Enquirer

"Follett is a master of crafty plot and incredible detail." —Time