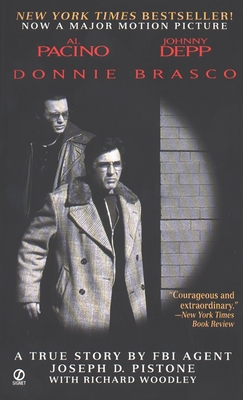 Donnie Brasco: Tie in Edition (Mass Market Paperbound)
Tie in Edition
Berkley Books, 9780451192578, 432pp.
Publication Date: February 1, 1997
Description
Posing as jewel thief "Donnie Brasco," FBI agent Joseph D. Pistone carried out the most audacious sting operation ever, working undercover for six years to infiltrate the flamboyant community of mafia soldiers, "connected guys," captains, and godfathers.
Now his unforgettable eyewitness account brings to pulsating life the entire world of wiseguys--their code of honor and their treachery, their wives, girlfriends and whores, their lavish spending and dirty dealings.
With the drama and suspense of a high-tension thriller, Joseph Pistone reveals every incredible aspect of the jealously guarded world he penetrated...and draws a chilling picture of what the mafia is, does, and means in America today.
About the Author
Joseph D. Pistone was an FBI agent for seventeen years before retiring from active duty in 1996. He is the New York Times bestselling author of Donnie Brasco: My Undercover Life in the Mafia, Donnie Brasco: Deep Cover, and Donnie Brasco: Mobbed Up. The Academy Award-nominated movie Donnie Brasco and the television series Falcone are based on his life as an undercover FBI agent. He now lives under a secret identity in an undisclosed location.
Advertisement