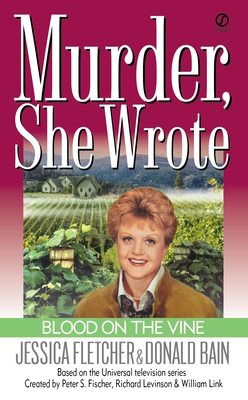 Blood on the Vine (Mass Market Paperbound)
Berkley Books, 9780451202758, 272pp.
Publication Date: April 10, 2001
Description
Victim in the Vineyard
Jessica Fletcher is visiting the Napa Valley wine country while doing research for her next book, and invites her old friend, Scotland Yard detective George Sutherland to join her at a cozy Bed and Breakfast. No sooner do they arrive than they find the valley abuzz over the murder of a waiter at the restaurant owned by infamous ex-Hollywood heavyweight Bill Ladington. Ladington's blatant womanizing and involvement in a bitter vineyard land dispute have already marked him as a dubious character--and a possible suspect.
But when Ladington turns up dead himself from a supposed -suicide, - Jessica knows that a murderer is on the loose--and with a little help from George, she must try and bottle up a motive for murder from an extensive list of less-than-vintage suspects...
About the Author
Jessica Fletcher is a bestselling mystery writer who has a knack for stumbling upon real-life mysteries in her various travels. Donald Bain, Jessica Fletcher's longtime collaborator, is the writer of over eighty books, many of them bestsellers.
Advertisement