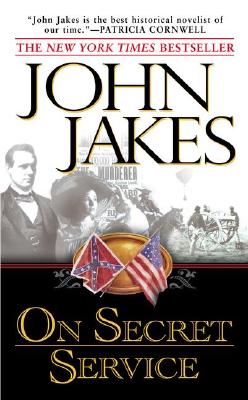 On Secret Service (Mass Market Paperbound)
Signet Book, 9780451204059, 480pp.
Publication Date: April 10, 2001
* Individual store prices may vary.
Description
An Alternate Selection of the Literary Guild(r)
John Jakes, the acclaimed author of the #1 New York Times bestselling North and South Trilogy, returns to the Civil War with On Secret Service the story of two couples, divided by war and allegiance, who discover that love doesn t take sides. A Rebel sympathizer's affection for a former Pinkerton detective turned Union agent cannot save him from the horrors of a Richmond prison. A Confederate officer sacrifices his rank to save an actress taken captive while posing as a Union soldier. Overshadowing them all is an actor's outspoken hatred of Abraham Lincoln and a date with destiny that would shock a nation and change the course of history
About the Author
John Jakes is the bestselling author of "Charleston," the "Kent Family Chronicles," the "North and South" trilogy, "On Secret Service," "California Gold," "Homeland," and "American Dreams." Descended from a soldier of the Virginia Continental Line who fought in the American Revolution, Jakes is one of today s most distinguished authors of historical fiction."
Praise For On Secret Service…
"On Secret Service draws you back into the Civil War and the wrenching days preceding Abraham Lincoln's assassination. The factual details are simply astonishing: You walk the muddy streets, smell the acrid smoke of battlefields, and experience firsthand the inner workings of a vast conspiracy." –Patricia Cornwell

"The author saves the best for last in dealing with Lincoln's assassination, bringing the drama to life by giving each of his protagonists a crucial role as the conspiracy unfolds with expert pacing and suspense. Jakes uncovers the little-known history of espionage and counterespionage during the War Between the States with his signature combination of meticulous research and epic narrative." –Publishers Weekly

"Gripping, exciting, and historically accurate…a very good book." –Library Journal

"An absorbing study of how human affairs stubbornly fall outside the simplistic categories of 'right' and 'wrong'…" –Kirkus Reviews

"John Jakes has written another fine historical novel about his favorite period—The Civil War…Jakes is a wonderful storyteller, mixing fiction with fact and capturing the feel and flavor of that turbulent time." –The Sunday Oklahoman

"Perhaps no author has made popularized American history more his own province than John Jakes…[He] does the invaluable service of any historical writer in transforming history's dusty pages into a living account. An excellent job of conveying the horror of that war now dimmed by the passage of the years." –Jacksonville Times-Union

"[Jakes] gets the big story right, while writing in a clear style, keeping the narrative moving briskly from cliff-hanger to cliff-hanger, serving up portions of steamy sex in between, and offering us plenty of heroes and heroines to admire and several villains to hate. Even a deep-dyed Civil War buff…will find himself turning the pages to see what happens next." –Civil War Book Review
or
Not Currently Available for Direct Purchase