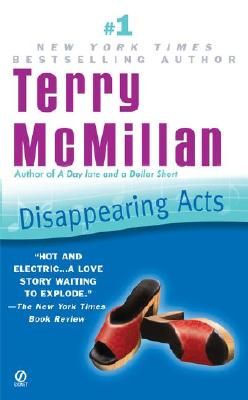 Disappearing Acts (Mass Market)
Berkley, 9780451205636, 448pp.
Publication Date: April 1, 2002
* Individual store prices may vary.
Description
He was tall, dark as bittersweet chocolate, and impossibly gorgeous, with a woman-melting smile. She was pretty and independent, petite and not too skinny, just his type. Franklin Swift was a sometimes-employed construction worker, and a not-quite-divorced daddy of two. Zora Banks was a teacher, singer, songwriter. They met in a Brooklyn brownstone, and there could be no walking away...
In this funny, gritty urban love story, Franklin and Zora join the ranks of fiction's most compelling couples, as they move from Scrabble to sex, from layoffs to the limits of faith and trust. Disappearing Acts is about the mystery of desire and the burdens of the past. It's about respect, what it can and can't survive. And it's about the safe and secret places that only love can find.
About the Author
Terry McMillan is the #1 New York Times bestselling author of Waiting to Exhale, How Stella Got Her Groove Back, A Day Late and a Dollar Short, The Interruption of Everything, I Almost Forgot About You, and the editor of Breaking Ice: An Anthology of Contemporary African-American Fiction. Four of Ms. McMillan's novels have been made into movies: Waiting to Exhale (Twentieth Century Fox, 1995); How Stella Got Her Groove Back (Twentieth Century Fox, 1998); Disappearing Acts (HBO Pictures, 1999); and A Day Late and a Dollar Short (Lifetime, 2014). She lives in California.
Praise For Disappearing Acts…
"If Ntozake Shange, Jane Austen, and Danielle Steel collaborated on a novel of manners, [
Disappearing Acts
] might be the result."
—New Yorker
"Contains someting increasingly rare in books or films today: a full-blown, sophisticated love affair between two African-American adults." —Denver Post
"A funny, earthy novel...ribaldly realistic. [Speaks] across class and color lines." —New York Newsday
"A down-to-earth portrayal of love, yearning, and self-preservation...brimming with energy and the hard facts of life." —Kansas City Star
"Gripping and moving...intensely realistic." —Cleveland Plain Dealer