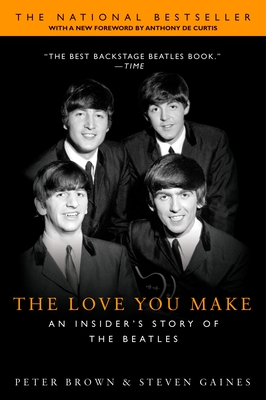 The Love You Make
An Insider's Story of the Beatles
Paperback

* Individual store prices may vary.
Description
Here is the national bestseller that
Newsday
called "the most authoritative and candid look yet at the personal lives…of the oft-scrutinized group." In
The Love You Make
,
Peter Brown, a close friend of and business manager for the band—and the best man at John and Yoko's wedding—presents a complete look at the dramatic offstage odyssey of the four lads from Liverpool who established the greatest music phenomenon of the twentieth century. Written with the full cooperation of each of the group's members and their intimates, this book tells the inside story of the music and the madness, the feuds and the drugs, the marriages and the affairs—from the greatest heights to the self-destructive depths of the Fab Four.
In-depth and definitive, The Love You Make is an astonishing account of four men who transformed the way a whole generation of young people thought and lived. It reigns as the most comprehensive, revealing biography available of John, Paul, George, and Ringo.
Includes 32 pages of rare and revealing photos
A Literary Guild® Alternate Selection
Praise For The Love You Make: An Insider's Story of the Beatles…
"Finally the real story."—
Rolling Stone
"Literate, complex…more than sensationalism…a hard-hitting yet sympathetic book that unflinchingly captures the highs and lows."—The Boston Globe
"The best backstage memoir yet of the most amazing musical phenomenon of our times."—The Washington Post Book World
"The definitive book on the Beatles."—New York Post
"Beatles aficionados will be amazed by the wealth of detail, the questions answered, and the tale of what happened to the Beatles, their women, their children, and their friends."—Liz Smith, New York Daily News
"Leaves the reader tearing through it as though one didn't know how the story ended."—San Francisco Examiner
"A gothic tale of drugs, sex, music, greed, booze, and genius…an entire generation's loss of innocence."—People
"Fascinating."—The Indianapolis Star
"The most sensational Beatles biography…emotionally involving."—Esquire
"The definitive book on the world's greatest  rock group…tells the truth with surprisingly little varnish."—Chicago Tribune
"A dramatically good story....Peter Brown catches us with the headiness of it all."—Publishers Weekly
Berkley, 9780451207357, 464pp.
Publication Date: November 5, 2002
About the Author
Peter Brown was Executive Director of NEMS Enterprises, the Beatles' management company, and maintains a close relationship with the surviving Beatles.

Steven Gaines is the author of Philistines at the Hedgerow: Passion and Property in the Hamptons; Heroes and Villains: The True Story of the Beach Boys, and other books, and numerous articles on pop culture.