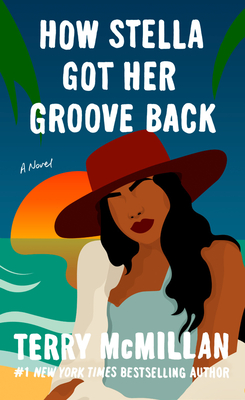 How Stella Got Her Groove Back
Paperback

* Individual store prices may vary.
Other Editions of This Title:
Mass Market Paperback (8/1/1998)
Mass Market Paperback (6/1/1997)
Description
How Stella Got Her Groove Back is full of Terry McMillan's signature humor, heart, and insight. More than a love story, it is ultimately a novel about how a woman saves her own life—and what she must risk to do it.

Stella Payne is forty-two, divorced, a high-powered investment analyst, mother of eleven-year-old Quincy- and she does it all. In fact, if she doesn't do it, it doesn't get done, from Little League carpool duty to analyzing portfolios to folding the laundry and bringing home the bacon. She does it all well, too, if her chic house, personal trainer, BMW, and her loving son are any indication. So what if there's been no one to share her bed with lately, let alone rock her world? Stella doesn't mind it too much; she probably wouldn't have the energy for love—and all of love's nasty fallout—anyway.

But when Stella takes a spur-of-the-moment vacation to Jamaica, her world gets rocked to the core—not just by the relaxing effects of the sun and sea and an island full of attractive men, but by one man in particular. He's tall, lean, soft-spoken, Jamaican, smells of citrus and the ocean—and is half her age. The tropics have cast their spell and Stella soon realizes she has come to a cataclysmic juncture: not only must she confront her hopes and fears about love, she must question all of her expectations, passions, and ideas about life and the way she has lived it.
Praise For How Stella Got Her Groove Back…
Praise for How Stella Got Her Groove Back

"The novel sparkles."—Chicago Sun-Times

"A riotous, sexy book...told in the inimitable voice of Stella, who will charm the reader from the first page....Fans and first-time readers will be hooked."—Richmond Times Dispatch

"A confessional, sister-can-you-understand-this open diary...I laughed out loud."—Boston Globe

"Terry McMillan is the only novelist I have ever read...who makes me glad to be a woman."—Washington Post Book World 

"A sexy handbook of self-realization."—The New Yorker

"A liberating love story…[which] tells women it's okay to let go, follow your heart, take a chance, and fall in love, even if that love comes from a place you'd least expect."—Orlando Sentinel

"A sexy…chatty, dishy, you-go!-girl tale that I read in one night."—Entertainment Weekly
 
"Hot summer fun, girlfriend…The tell-it-like-it-is voice that McMillan honed to smart-mouthed perfection…she resurrects here in the person of Stella Payne."—Indianapolis Star
 
"A cast of likable characters, funny lines, smart repartee and a warm and fuzzy ending…an irreverent, mischievous, diverting novel that at times will make you laugh out loud." —The New York Times Book Review
 
"Rich in detail...leaves you feeling like you've just had a good gossip with your best girlfriend."
—Mademoiselle
 
"A down-and-dirty, romantic and brave story told to you by this smart, good-hearted woman as if she were your best friend."—Newsday

Berkley, 9780451209146, 416pp.
Publication Date: January 6, 2004
About the Author
Terry McMillan is the #1 New York Times bestselling author of Waiting to Exhale, Getting to Happy, How Stella Got Her Groove Back, A Day Late and a Dollar Short, The Interruption of Everything, Who Asked You?, Mama, Disappearing Acts, I Almost Forgot About You, It's Not All Downhill From Here, and the editor of Breaking Ice: An Anthology of Contemporary African-American Fiction. Each of McMillan's novels is a New York Times bestseller, and four have been made into movies: Waiting to Exhale, How Stella Got Her Groove Back, Disappearing Acts, and A Day Late and a Dollar Short. She lives in California.