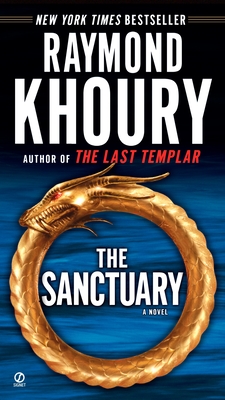 The Sanctuary (Paperback)
Berkley, 9780451223197, 640pp.
Publication Date: July 29, 2008
* Individual store prices may vary.
Description
After centuries of destruction, one unsuspecting woman stands at the center of a conspiracy that could change the world forever in this thriller from the New York Times bestselling author of The Last Templar.

Portugal, 1705. In the dungeons of a Templar castle, a dying old man bequeaths an ancient, half-burnt book to his young inquisitor. Keeping one step ahead of those who would kill to wrench the book's secret from his hands, the inquisitor turns his back on his calling and sets off on an impossible journey to complete the old man's quest.
 
Baghdad, 2003. Hunting for a mysterious bioweapon scientist, an army unit discovers a concealed state-of-the-art lab where gruesome experiments have been carried out on men, women, and children. The scientist escapes, but a puzzling clue is left behind: a circular symbol of a snake feeding on its own tail.
 
As the power of the symbol comes to light, revealing centuries of destruction left in its wake, a woman desperate for answers holds the fate of the world in her hands...
About the Author
Raymond Khoury is the New York Times bestselling author of The Last Templar, The Sanctuary, The Sign, The Templar Salvation, The Devil's Elixir, Rasputin's Shadow, and The End Game. His novels have been translated into more than forty languages and, in the case of The Last Templar, adapted into a comic book and an NBC television miniseries. An acclaimed screenwriter and producer for both television and film, he has also penned several scripts for BBC series such as Spooks and Waking the Dead.
Praise For The Sanctuary…
Praise for The Sanctuary
 
"[Khoury] follows up the thrills of The Last Templar with...more thrills."—Tampa Tribune
 
"A high-octane rollercoaster ride of thrills and spills...Khoury is a screenwriter and the novel's tight construction and hyper-fast pacing owe an obvious debt to that discipline."—The Irish Mail on Sunday
 
"Fresh and exciting...Khoury makes the conspiracy feel utterly believable and imbues his characters with infectious passion for finding the truth. A surefire hit with fans of conspiracy-based historical thrillers."—Booklist
 
"What connects a fake marquis in 1700s Naples and an underground lab in Saddam's Baghdad where civilians were subjected to grievous experimentation? Clues to a dark and devastating secret, which is what made Khoury's The Last Templar such bestselling fun."—Library Journal