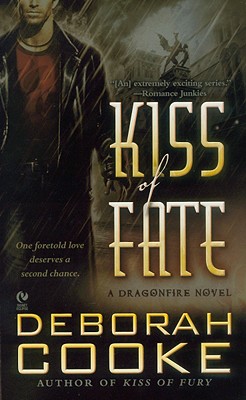 Kiss of Fate (Mass Market Paperbound)
A Dragonfire Novel
Signet Book, 9780451226167, 404pp.
Publication Date: February 3, 2009
* Individual store prices may vary.
Description
For millennia, the shape-shifting dragon warriors known as the Pyr have commanded the four elements and guarded the earth's treasures. But now the final reckoning between the Pyr, who count humans among the earth's treasures, and the Slayers, who would eradicate both humans and the Pyr who protect them, is about to begin.
Haunted by dreams of a lover who takes the form of a dragon, Eileen Grosvenor searches for the truth. She never expects to find a real dragon shape shifter, let alone one who awakens her passion and ignites memories of a forgotten past.
Erik Sorensson is focused on leading the Pyr against the Slayers when a powerful ancient relic reveals itself. Erik tries to retrieve it from Eileen's possession?and is shocked by a fury of passion. Her presence touches him in unexpected ways, reminding him of mistakes he's determined not to make again, and Erik is forced to make a choice?duty or love.
About the Author
Deborah Cooke has always been fascinated with dragons, although she has never understood why they have to be the bad guys. She has an honors degree in history, with a focus on medieval studies.She is an avid reader of medieval vernacular literature, fairy tales and fantasy novels, and has written over forty romance novels under the names Claire Cross and Claire Delacroix.Deborah makes her home in Canada with her husband. When she isn't writing, she can be found knitting, sewing or hunting for vintage patterns.
or
Not Currently Available for Direct Purchase