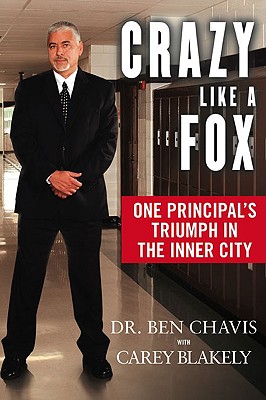 Crazy Like a Fox (Hardcover)
One Principal's Triumph in the Inner City
NAL Hardcover, 9780451228185, 304pp.
Publication Date: September 1, 2009
* Individual store prices may vary.
Description
The inspiring true story of one man's determination to make a difference- and the school he changed forever.

"If you act like a winner, you'll be treated like a winner. If you act like a fool, you'll be treated like a fool."

This is the golden rule set forth by Dr. Ben Chavis, the highly unorthodox principal of Oakland, California's American Indian Public Charter School, which was hailed as an "education miracle" by Governor Arnold Schwarzenegger after it was transformed from a failing "nuisance" into one of the best public middle schools in the nation.

This is the story of how one man, in daring to be different, effected such stunning change. With his rigorous, no-nonsense approach, Dr. Ben Chavis debunks the myth that poor, minority, inner-city schools have little chance at academic excellence. Focusing on back-to-basics ideals, he has created a structured educational model that, combined with the enthusiasm of his students and teachers, delivers astounding results.

Now, Dr. Chavis recounts how he did it-in his own words and through the stories of the extraordinary young people he's helped.
About the Author
Dr. Ben Chavis was born into a Lumbee Indian family of sharecroppers and as a youngster attended Indian segregated public schools in Robeson County, North Carolina. An athletic scholarship provided him the opportunity to graduate from Pima College and University of Arizona. He has worked in farming, construction, education, and business. He is now Chief Executive for training and implementing the successful American Indian Public Charter School model in schools. His educational model has been replicated in other schools serving low-income students with the same high academic results. During his leadership at AIPCS, it went from the lowest scoring school in Oakland, California, to one of the top in the United States.

Carey Blakely grew up in Massachusetts and California and majored in English at UC Berkeley. After teaching at American Indian Public Charter School for three years, she helped launch American Indian Public High School (AIPHS) and was appointed the school's leader. During the time she headed AIPHS, it ranked as the fifth-highest-scoring high school in California. She now lives and writes in the San Diego area.
or
Not Currently Available for Direct Purchase