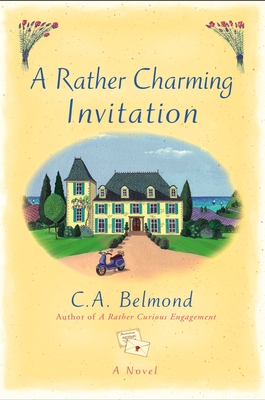 A Rather Charming Invitation (Penny Nichols #3)
Paperback

* Individual store prices may vary.
Description
Her work has been hailed as "a return to the golden age of romantic suspense," and Belmond is back with her beloved characters and their search for a missing bridal tapestry.

Dateline: London, Paris, Antibes. It's time to get down to wedding planning. But while heiress Penny's distant relatives insist that the nuptials be held in their native France, Jeremy's kin won't have it anywhere but England. And either choice might just re-ignite the Hundred Years' War...

Then, in a family château high above the perfume fields of Grasse, Penny's French cousin offers her the loan of an ancient bridal tapestry. But Penny has barely begun to crack its perplexing imagery before a series of strange events unfolds, threatening to derail the wedding. From a secret chalet on Lake Geneva, to a nostalgic stop at the opulent Train Bleu, to a winner-take-all gamble in Monte Carlo, Penny and Jeremy are off on another romp...while the clock is ticking down until they say, "I do."
Praise For A Rather Charming Invitation (Penny Nichols #3)…
"C.A. Belmond's entertaining duo of Penny Nichols and Jeremy Laidley are back in the spotlight in her novel, A Rather Charming Invitation. A wonderful cozy mystery that weaves together pictures of relationships among a variety of couples while Penny ponders the life-changing ceremony that she is about to participate in. Beautifully lyrical descriptions of multiple European locales are juxtaposed with the painstaking search for clues in the tapestry, which in turn gives rise to vivid descriptions of the past lives of those whom the tapestry has touched. Trains and clocks provide additional threads which embellish the story and enrich the glimpses of affluent society in this charmingly lighthearted mystery that also provides a look at the intricacies of planning a wedding that often become a lesson in strategic diplomacy."
-Night Owl Review (A Featured "Top Pick")

"A Rather Charming Invitation is written in such a fascinating way, with characters that will both charm and entertain. It is a book that you don't want to miss!"
-ChickLit Club

"Imagine you are able to bounce between your homes in England and the South of France, to enjoy all there is to see and do without worrying about the cost, and with the one you love by your side. Hard to imagine? Not with Penny and Jeremy as inspiration. They are good people prepared to make the most of their inheritances with natural good taste and innate kindliness. ...Writing well in the first person from a singular point of view must be difficult-it's so often awkward-but Ms. Belmond pulls it off beautifully. And with fascinating glimpses of Europe past and present, and a gentle romance between a likable pair, she has produced an enchanting read. I highly recommend A Rather Charming Invitation for its combination of charm, livliness, and suspense.

If you were lucky enough to have read A Rather Lovely Inheritance, [the first novel in the "Rather" series] you would have met American Penny Nichols on the French Riviera... [and] that meeting led to A Rather Curious Engagement, the second delightful installment in Penny and Jeremy's adventures. You needn't have read the earlier titles to enjoy A Rather Charming Invitation, but they are both treasures.
-Romance Reviews Today
Berkley, 9780451229083, 464pp.
Publication Date: February 2, 2010
About the Author
C. A. Belmond was awarded an Edward F. Albee Foundation Fellowship and was twice a Pushcart Press Editors' Book Award finalist. A writer in residence at the Károlyi Foundation in the south of France, her original screenplays were shortlisted at Robert Redford's Sundance Institute and at the Eugene O'Neill National Playwrights Conference. Belmond has written and produced television dramas and documentaries, and taught writing at New York University.
or
Not Currently Available for Direct Purchase