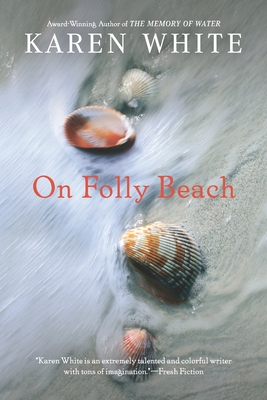 On Folly Beach (Paperback)
Berkley Books, 9780451229212, 416pp.
Publication Date: May 4, 2010
Description
From the New York Times bestselling author of the Tradd Street novels comes a story of old wounds and second chances, set in the small South Carolina town of Folly Beach.

To most people, Folly Beach is simply the last barrier island before reaching the great Atlantic. To some, it's a sanctuary for lost souls... When Emmy Hamilton's mother encourages her to buy the local book store, Folly's Finds, she hopes it will distract her daughter from the loss of her husband. But the seller has one condition that changes everything: Emmy must allow Lulu, the late owner's difficult elderly sister, to continue selling her bottle trees from its back yard. For the most part Emmy ignores Lulu as she sifts through the love letters she finds in a box of used books. But the more she discovers about the letters, the more she understands Lulu. As details of a possible murder and a mysterious disappearance during WWII are revealed, the two women discover that circumstances beyond their control have brought them together, here on Folly Beach. And it is here that their war-ravaged hearts can find hope again...
About the Author
Karen White is the New York Times bestselling author of more than twenty novels, including the Tradd Street series, The Night the Lights Went Out, Flight Patterns, The Sound of Glass, A Long Time Gone, and The Time Between. She is the coauthor of The Forgotton Room with New York Times bestselling authors Beatriz Williams and Lauren Willig. She grew up in London but now lives with her husband and two children near Atlanta, Georgia.
Please note that some of the following questions reveal important plot points. Readers who have not finished the novel may want to stop at this point and return afterward.

Although Folly Beach, South Carolina, is a real place, "folly" also describes some of the mistakes the characters make throughout the story. What are some of these follies?
The story of the planned Nazi invasion of the East Coast is based on historical fact—is this something you already knew about before reading On Folly Beach?
Did you find Lulu a sympathetic character despite her habit of spying as a child and her abrasiveness as an adult?
Do you think Lulu can be held responsible for Peter's death?
Despite Peter being a Nazi spy and a murderer, do you think he deserved to die? Was he truly a "bad" man?
Why do you think Maggie refused to evacuate her home before Hurricane Hugo hit?
Were Lulu and Robert wrong to not tell Maggie the truth about Peter being a Nazi spy for so many years? Do you think Maggie suspected the truth since she never wanted to go to the Atlantic House restaurant?
How many times did Lulu misinterpret what she observed, or do you think she was always correct in her interpretation?
Do you think Cat seduced Peter, or did Peter seduce Cat to not betray his secret?
Do you think Peter really loved Maggie? Do you think Maggie would have still left with Peter if she had known the truth about him?
Why do you think Lulu finally decided to tell the truth about the past to Emmy and her family?
Emmy and Lulu are linked with two different wars, and the effects of war on the homefront. What are some of the similarities between what they experienced because of war?
Advertisement