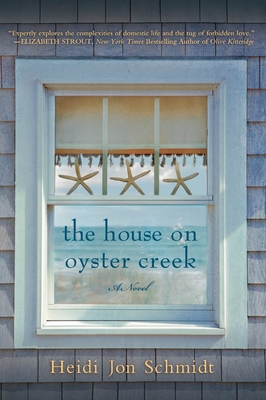 The House on Oyster Creek
A Novel
Paperback

* Individual store prices may vary.
Description
Sensitive but practical, Charlotte Tradescome has come to accept the reticence of her older, work-obsessed husband Henry. Still, she hopes to create a life for their three-year-old daughter. So when Henry inherits a home on Cape Cod, she, Henry, and little Fiona move from their Manhattan apartment to this seaside community. Charlotte sells off part of Tradescome Point, inadvertently fueling the conflict between newcomers and locals. Many townspeople easily dismiss Charlotte as a "washashore." A rare exception is Darryl Stead, an oyster farmer with modest dreams and an open heart, with whom Charlotte feels the connection she's been missing. Ultimately he transforms the way she sees herself, the town, and the people she loves...
Berkley, 9780451229922, 368pp.
Publication Date: June 1, 2010
About the Author
Heidi Jon Schmidt's stories and essays have been published in the New York Times, the Atlantic, Grand Street, and Yankee, and have been featured on National Public Radio. She has won awards including the O. Henry, the Ingram-Merrill, and the James Michener. She teaches in the Workshops at the Fine Arts Work Center in Provincetown, Massachusetts.
What experience would you bottle, and how would you do it? What are the particular details, the sights and sounds and smells that would really make that experience vivid for someone else?
As its title suggests, Oyster Creek is very much a novel of place. What place or places have strongly affected you, and why?
Charlotte's marriage to Henry evolves over the course of the book. At first Henry is almost a father figure, but after Fiona's birth Charlotte becomes the stronger partner, and husband and wife drift apart. Charlotte's love for Darryl has an intense, though unusual effect on her marriage. Do you think there are common stages of marriage, just like stages of life?
Henry Tradescome, glacial by nature, fears global warming above all things. Late in the book his wife finds out some things that change her understanding of his coolness. Have you known men, or women, like Henry, who keep themselves distant even from those they love most? Do you see this as a weakness or a strength?
Throughout Oyster Creek, the characters' lives are shaped by history, from the changes brought about by the sinking of Billingsgate Island to the effects of the King's Law to the ways the characters are influenced by their childhood experiences. Charlotte tries in many ways to have some good effect on the future, with only partial success. How has history affected your life? In what ways have your actions changed what may happen in the future?
The author suggests above that everyone has something new to say about love. What have you learned about love? How has love–romantic or familial–surprised you, changed you?
How do you imagine the lives in Oyster Creek will continue? What will become of the characters? What do you hope and fear for them? Are there things you wish you knew about the inhabitants of Oyster Creek and their lives?
or
Not Currently Available for Direct Purchase