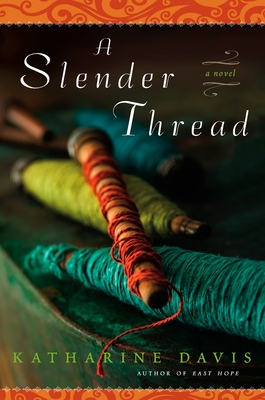 A Slender Thread
Paperback

* Individual store prices may vary.
Description
A gripping novel of two sisters who must reimagine the future-before they're ready to let go of the past.

As a girl, Margot Winkler knew her big sister Lacey would keep her safe. Decades later, Lacey's home is often Margot's refuge. Lacey's life has seemed close to perfect-a loving husband, twin daughters on the brink of womanhood, and a home filled with her beautiful hand-woven textiles. But everything changes when Lacey reveals some devastating news. A rare disease is slowly stealing her ability to use language. Now Margot must imagine the future and find the courage to help her sister discover a new voice, keenly aware of the slender threads that bind them to this life, and to each other.
Berkley, 9780451230102, 352pp.
Publication Date: August 3, 2010
What's your overall reaction to the novel? Do you connect strongly with the characters and their situation?
Have you known anyone with a degenerative, debilitating illness? How were their lives, and the lives of those around them, changed by the prognosis? In addition to big, obvious changes associated with their care, were there also subtle shifts in the interconnected relationships?
Margot suffered a disastrous first marriage, which has made her reluctant to marry again. Have you known people who rushed into marriage and then regretted it? Were there danger signs that Margot might have recognized, or does marriage always require a blind leap of faith?
Why do you think it matters to Lacey to have Margot make a commitment to Oliver? If children are not involved, do you think a marriage ceremony is necessary for a long-term loving relationship between two people?
Do you have a place like Bow Lake, which you associate with idealized times from your childhood? Has it continued to be part of your life? Have you known people in retirement who have decided to live in a vacation place where they spent time growing up?
Was your first love anything like Margot's few days with Alex at Bow Lake?
Do you think Lacey secretly knows that her husband was Margot's first love? Would it make a difference in how she feels about Margot all these many years later?
Are there points in the novel when the characters behave in ways that made you dislike them? Who and when? Are there times when you especially liked them?
What do you think of Margot's decision to return several times to Lacey's home to help out? Is Margot right or wrong to step in? Have you ever been torn between duty to your extended family and to those closer to home, including yourself?
Is A Slender Thread more a story about Lacey or is it more about Margot? Why? Lacey lives on a small island off the coast of New Hampshire and Margot lives on the island of Manhattan. Is there a significance to these locations? Does where the sisters live have anything to do with the way they choose to live their lives?
Discuss the importance of weaving in A Slender Thread, in other literature, and in the lives of women over the centuries. Remember Sleeping Beauty, who falls under an enchantment when she pricks her finger on a spinning wheel? Remember Penelope in Homer's Odyssey, who weaves by day and then secretly pulls apart her work at night while waiting faithfully for her husband, Odysseus, to return from his long absence?
The popularity of knitting and crafts suggests that women enjoy making beautiful things they can wear or use in their homes. Has our current reliance on electronic technology created a yearning in us for objects of beauty that we can touch, make, and admire? If you are drawn to handwork of any kind, how does it make you feel when you are doing it? Do you find it relaxing or meditative, or do you find pleasure in accomplishing something in your free time?
or
Not Currently Available for Direct Purchase