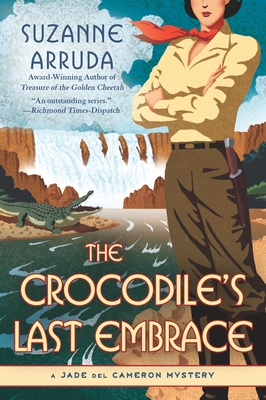 The Crocodile's Last Embrace (Paperback)
A Jade del Cameron Mystery
Berkley, 9780451231178, 400pp.
Publication Date: September 7, 2010
* Individual store prices may vary.
Description
Now appearing in trade paperback original format: "One of the most appealing heroines to appear in the pages on a mystery" (Library Journal).

Returning from Europe, intrepid explorer Jade del Cameron arrives in Kenya with bittersweet memories-and the certainty that Africa is her home and Sam Featherstone the man she wants to share her life with. When a letter arrives from America, Jade hopes it's Sam sending word of his return. Instead, it's a message written in the hand of her long- dead fiancé, asking "Why did you let me die?"

When two men die under mysterious circumstances and Jade discovers that her old nemesis, Lilith Worthy, has escaped from prison, the deaths and the letter form the most dangerous case Jade has ever faced, pitting her against a ferocious crocodile-and an even more deadly human killer.
About the Author
Suzanne Arruda, a former zookeeper-turned-science teacher and freelance writer, is the author f several biographies for young adults. She has also published science and nature articles for adults and children and is a regular contributor to a weekly newspaper supplement. An avid hiker and outdoorswoman, she lives in Kansas with her husband, twin sons, and a small menagerie of pets.