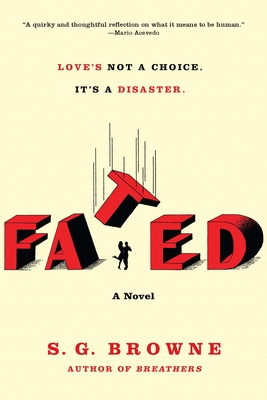 Fated
Paperback

* Individual store prices may vary.
Description
From the acclaimed author of Breathers--an irreverent novel about fate, destiny, and the karmic consequences of getting involved with humans.

Over the past few thousand years, Fabio has come to hate his job. As Fate, he's in charge of assigning the fortunes and misfortunes that befall most of the human race-the 83% who keep screwing things up.

Frustrated with his endless parade of drug addicts and career politicians, Fate has to watch Destiny guide her people to Nobel Peace Prizes and Super Bowl MVPs. To make matters worse, he has a five- hundred-year-old feud with Death, and his best friends are Sloth and Gluttony. And worst of all? He's fallen in love with a human.

Getting involved with a human breaks Rule #1, and about ten others, setting off some cosmic-sized repercussions that could strip him of his immortality-or lead to a fate worse than death.
Praise For Fated…
"The fate of Fated hinges on the details, which Browne nails comically time and again...This author's mind must be as active as a pinball machine surrounded by 10-year-old boys; the pace never falters. Even when Browne seems to stall toward the end, he pulls out something so unexpected and pitch-perfect that it's obvious Creativity knocked him out of his chair and started typing herself."
-The Washington Post

"Another radically funny comedy from one of America's best satiric novelists. California must have good stuff. California-based Browne (Breathers, 2009) hails from the same neck of the woods as humor powerhouse Christopher Moore and brings the same mojo to his sophomore novel. After getting down with zombies in the subversive romantic comedy Breathers, the author turns his attention to the human condition. His hero is the deeply flawed and conflicted Fabio, the nom de plume of the literal Fate, the predestination of your life on this crazy Earth. Fabio reports to Jerry, who sounds a lot friendlier than God but is actually a bean-counting bureaucrat complete with quotas and a serious deficit in the sense-of-humor department. Not that Fabio is the only anthropomorphized divinity on the clock-there are plenty of compatriots, among them Lady Luck, Gossip, Karma, Justice (who is a sociopath), Truth (the kleptomaniac), Dennis (which sounds friendlier than Death) and, the most troublesome, Love. Not to mention that his rival, Destiny, is gunning for him. Unfortunately, Fabio has fallen head-over-heels in love with Sara Griffen, his neighbor in New York City, from which he telecommutes to ruins most people's lives...Genuinely comic novels are hard to come by, so grab a copy of this one. There will be long lines at Browne's book signings if he keeps this up."
-Kirkus Reviews (Starred Review)
Berkley, 9780451231284, 368pp.
Publication Date: November 2, 2010
About the Author
S.G. Browne is the author of Fated, Less Than Hero, Big Egos, Lucky Bastard, and more. Born in Arizona and raised in San Francisco, Browne attended the University of the Pacific in Stockton, CA. His writing has been influenced by Stephen King, Chuck Palahniuk, Christopher Moore, and Kurt Vonnegut. He currently lives and writes in San Francisco.
or
Not Currently Available for Direct Purchase