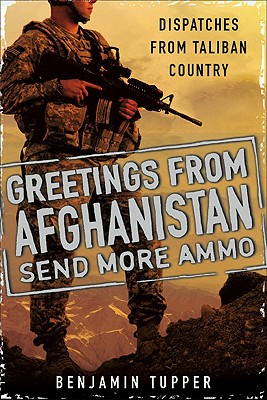 Greetings From Afghanistan, Send More Ammo: Dispatches from Taliban Country (Hardcover)
Dispatches from Taliban Country
NAL Hardcover, 9780451231437, 272pp.
Publication Date: June 1, 2010
* Individual store prices may vary.
or
Not Currently Available for Direct Purchase
Description
"Raw, direct, and powerful...This work is vitally important."
-Ken Stern, former CEO of National Public Radio
Captain Benjamin Tupper spent a year in Afghanistan in an Embedded Training Team, tasked with training, leading in combat, and mentoring the Afghan Army to victory against the brutal Taliban. Writing and recording from a remote outpost, Tupper's dispatches were posted on the blog The Sandbox and broadcast on NPR, bringing vivid snapshots of America's longest ongoing war to a wide audience back home.
Here, he takes us inside the intricacies of the war, opening up a unique and multifaceted view of both Afghan culture and the daily life of an American soldier. From the rush of gunfire to surreal, euphoric moments of cross-cultural understanding, this emotional and thought- provoking narrative is rich with humor, eloquence and contradiction. Deeply personal and darkly funny, Tupper illuminates the challenges of the war, vividly bringing to life both the mundane and the extraordinary and seeking a way forward.
Praise For Greetings From Afghanistan, Send More Ammo: Dispatches from Taliban Country…
"[An] important collection...His observations are frank, insightful, and offer a detailed account of the current situation in a theater where American soldiers are giving their lives right now. Anyone who wants a better understanding of what is happening in Afghanistan should read this book....Tupper's writing is superb. Greetings from Afghanistan, Send More Ammo belongs on bookshelves alongside such well-received works as Flags of Our Fathers and Battle Cry of Freedom."
-New York Journal of Books

"Ragged frontline chaos ... fill[s] the pages of Capt. Tupper's new memoir..."
-The New York Post

"A penetrating look at life deep inside Afghanistan and way outside the wire. Tupper's timing is right, and readers will appreciate the context he provides for the new stories we will be reading soon."
-Garry Trudeau, creator of Doonesbury and the Sandbox

"Tupper's got as good a view as anybody of, as he puts it, the 'tip of the counterinsurgency spear' on the ground in Afghanistan... An interesting look at the culture clashes between U.S. soldiers, Afghan soldiers, and Afghan civilians..."
-Newsweek.com

"...Very powerful, important and penetrating, and I really do urge people to pick it up"
-Joe Donahue, WAMC Northeast Public Radio

"Tupper is a true grunt. He has that crazy, infectious sense of humor based on the absurd, grasps the poignancy without sentimentalism, and tells the reader straight up how it is to be a grunt adviser in the zany land of Afghanistan."
-Bing West, author of The Village
Coverage from NPR
Advertisement