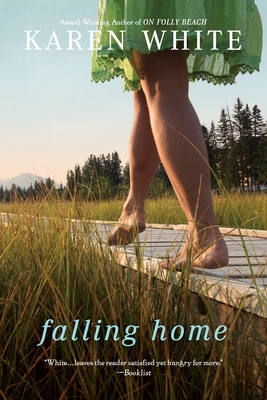 Falling Home (A Falling Home Novel)
Paperback

* Individual store prices may vary.
Other Editions of This Title:
Digital Audiobook (1/10/2011)
Description
A poignant story of two estranged sisters from the New York Times bestselling author of the Tradd Street novels.

At twenty Cassie Madison left her hometown of Walton, Georgia, for New York City, where she has reinvented herself—from losing herself in her career to squashing her accent. But one night a single phone call brings back everything she's tried to forget. She hasn't spoken to her sister since Harriet stole Cassie's fiancé and married him. But now Harriet's on the line with news that their father is dying.

As she makes the trip back, the only thing that frightens Cassie more than losing her father is seeing Harriet and the family that should have been hers. But she can't help loving her nephews and nieces any more than she can help feeling at home again in Walton. As she fights a surprising reaction to a forgotten friend, and faces an unexpected threat to the family she'd once left behind, Cassie comes to realize that moving on doesn't always mean moving away from who you are.
Praise For Falling Home (A Falling Home Novel)…
Praise for New York Times bestselling author Karen White
 
"There is a rhythm to the writing of Karen White. It has a pace, a beat, a cadence that is all its own."—The Huffington Post

"White's dizzying carousel of a plot keeps those pages turning, so much so that the book can [be]—and should be—finished in one afternoon, interrupted only by a glass of sweet iced tea."—Oprah.com
 
"White captures the true essence of Charleston by intertwining the sights and smells of the historic town with an enchanting story filled with ghostly spirits, love, and forgiveness…a once-in-a-lifetime series."—Fresh Fiction
 
"This is storytelling of the highest order: the kind of book that leaves you both deeply satisfied and aching for more."—Beatriz Williams, New York Times bestselling author of Tiny Little Thing
 
"Readers will find White's prose an uplifting experience as she is a truly gifted storyteller."—Las Vegas Review-Journal
Berkley, 9780451231444, 464pp.
Publication Date: November 2, 2010
About the Author
Karen White is the New York Times bestselling author of more than twenty novels, including the Tradd Street series, The Night the Lights Went Out, Flight Patterns, The Sound of Glass, A Long Time Gone, and The Time Between. She is the coauthor of The Forgotton Room with New York Times bestselling authors Beatriz Williams and Lauren Willig. She grew up in London but now lives with her husband and two children near Atlanta, Georgia.
Have you ever lived far from your childhood home? If so, what was your experience like? What drove you to relocate? Could you sympathize with Cassie's yearning to redefine herself and her destiny?

What does the author have to say about living an urban life versus a more rural one? What positives and negatives are there to each? Which seems to suit Cassie when we first encounter her versus the Cassie we come to know at the end of the novel?
Do you think Cassie's father did the right thing by leaving her the house—thereby tying her to Walton? Do you think he still knew what was best for her after all these years? How do the other characters conspire to keep Cassie in Walton too?
What are some of the stereotypes that the characters have of "city people" and of "country folk"? How do these perceptions influence their behavior? How are these ideas challenged?
Cassie and Andrew. Cassie and Sam. What does each relationship offer her? Did you find yourself rooting for one man over the other? Who seems a better match for her—and did her transformation affect your answer? Were you surprised when Cassie broke off her engagement?
How does the past continue to influence the lives of Cassie, Harriet, and Sam? How do they each react to change—in Walton, in their family, in their lives?
Why do you think the author chose to keep Joe in the background? What effect does this have on the story—letting the sisters' relationship be the focus? Did you want to know what exactly unfolded fifteen years prior?
How does Harriet and Joe's early relationship mirror that of Lena and the judge's? Why do you think the girls' father seemed to take Harriet's "side" in the love triangle drama?
The residents and the town of Walton certainly had an effect on
Cassie—bringing the past back to her through the moonlit nights, the magnolias and kudzu, the "statue of liberty", old romances and friendships, plus the integral new relationships with her nieces and nephew. What effect does Cassie's presence have on the town? On Maddie?
What are some of your most cherished childhood memories? Do you have a "sacred" scent, food, or object that transports you back to those moments? What do you think gives them that power?
Do you think the sisters did the right thing by reading the letters? How did that changing things? Would you have been curious or been able to resist reading about the affair and their child?
Were you shocked to learn the identity of "E.L.", or the love child? What reasons does Lena have for keeping the secret? Do you think Ed had a right to feel the resentment he did?
Harriet's decision to delay treatment for her cancer until after the
baby's birth is heartbreaking. Do you think her choice is controversial? How might you consult a loved one in a similarly tragic predicament?
Walton is a prime example of a small town wrestling with tradition and the challenges and necessities of staying competitive for its working families and young people now and in the future. Development and modernizing involve real risks to the character that makes these towns so special. How has your town (or the place you live) tackled such challenges?