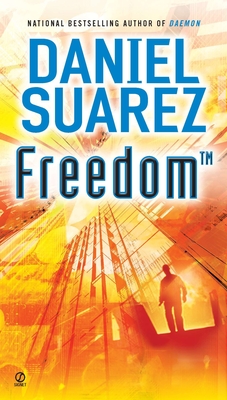 Freedom (TM) (Daemon Series #2) (Paperback)
Dutton, 9780451231895, 496pp.
Publication Date: January 4, 2011
Other Editions of This Title:
Digital Audiobook (1/6/2010)
* Individual store prices may vary.
Description
The New York Times bestseller Daemon unleashed a terrifying technological vision of an all-powerful, malicious computer program. Now, our world is the Daemon's world—unless someone stops it once and for all...

The Daemon is in absolute control, using an expanded network of shadowy operatives to tear apart civilization and build it anew. Even as civil war breaks out in the American Midwest in a wave of nightmarish violence, former detective Pete Sebeck—the Daemon's most powerful, though reluctant, operative—must lead a small band of enlightened humans in a movement designed to protect the new world order.  

But the private armies of global business are preparing to crush the Daemon once and for all. In a world of shattered loyalties, collapsing societies, and seemingly endless betrayal, the only thing worth fighting for may be nothing less than the freedom of all humankind.
About the Author
Daniel Suarez is the author of the New York Times bestseller Daemon, Freedom™, Kill Decision, and Influx. A former systems consultant to Fortune 1000 companies, his high-tech and sci-fi thrillers focus on the impact of technology-driven change. He lives in Los Angeles, California.
Praise For Freedom (TM) (Daemon Series #2)…
"Freedom™ surpasses its smart, exciting predecessor. This concluding volume crackles with electrifying action scenes and bristles with intriguing ideas about a frightening, near-future world. The two books combined form the cyberthriller against which all others will be measured."—Publishers Weekly (starred review)

"Suarez continues his popular technothriller, and Daemon fans will be well be pleased with the exciting conclusion."—Booklist

"An engrossing, fast-paced tale of speculative fiction."—SF Site