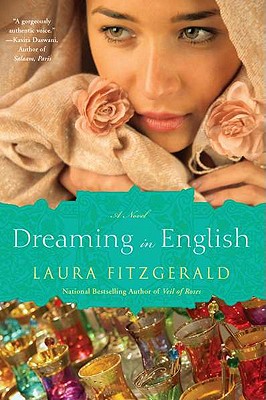 Dreaming in English (Paperback)
New American Library, 9780451232144, 420pp.
Publication Date: February 1, 2011
Other Editions of This Title:
Compact Disc (2/1/2011)
MP3 CD (8/11/2015)
MP3 CD (2/1/2011)
MP3 CD (2/1/2011)
Compact Disc (2/1/2011)
* Individual store prices may vary.
Description
A captivating sequel to the national bestselling novel "Veil of Roses."
Knowing she could never be happy in Iran, Tamila Soroush took her mother's advice to "Go and wake up your luck" and joined her sister in the United States. Now, after a spur-of-the-moment exchange of "I do"s with her true love, Ike Hanson, Tami is eager to start her new life.
But not everyone is pleased with their marriage, and Tami's happily- ever-after is no sure thing. With an interview with Immigration looming, Tami wonders if she's got the right stuff when it comes to love, American-style. Maybe her luck is running out. Or maybe she'll stand up for herself and claim her American dream.
About the Author
Laura Fitzgerald, a native of Wisconsin, lives in Arizona with her husband, who is of Iranian descent, and their two children.
What aspects of the novel most appeal to you?
Do you feel more patriotic after reading the novel? Do you have a deeper appreciation of the freedoms Americans often take for granted?
Do we sometimes assume we have "rights" that are really privileges? For example, does an individual have a right to clean water, or is that a privilege? And if you have a right to clean water, does an impoverished person in India or Africa have the same right? If so, what implications does that have for the way we conduct our lives?
Did you find charming the little cottage where Tami and Ike live, and the comfortable set-up at their families' homes? Do you think Laura Fitzgerald was smart to make the world of the novel appealing in that way, or did it detract for you from the realism of what life for a recent immigrant is most likely to be?
How do Tami and Ike's attempts to adjust to marriage compare to your own? Would you like to share some stories?
Do Tami and Ike make a mistake in failing to consult their families before getting married? By acting independently, are they asserting their autonomy as adults, or do they fail to acknowledge how interdependent they and their families are?
Do you believe that we can choose our own happiness? Have you lived your life that way? What would you do differently if you did live with that assumption?
Tami fails to stick up for herself in some important ways. How might her attitude have been shaped by her background? Discuss some of the ways in which we are shaped, for good or bad, by our upbringing and by those we love most dearly.
Despite the thought-provoking issues the novel explores, it's mostly light, funny, and ultimately uplifting. What fun and funny parts did you like best?
Should Laura Fitzgerald write another story featuring Tami and Ike? What story would you like her to tell?
or
Not Currently Available for Direct Purchase