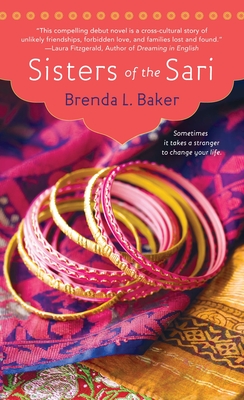 Sisters of the Sari
Paperback

* Individual store prices may vary.
Description
A debut novel about an American woman and an Indian woman who are about to dramatically change each other's lives-along with the lives of those around them.

While vacationing in India, Kiria Langdon, the opinionated and driven CEO of a major company, meets Santoshi, a former slave who now works as a cleaning lady and lives in a shelter for homeless women in Chennai. Appalled by the conditions in the shelter, Kiria becomes obsessed with the idea of building decent housing for poor working women in India. Santoshi reluctantly agrees to help, even though she thinks Kiria's ideas are too crazy to succeed.

Embarking on a rich journey of personal discovery, both women will learn invaluable lessons about themselves as they forge a powerful bond of sisterhood across the barriers of language and culture-a bond that makes anything possible.
Berkley, 9780451233219, 352pp.
Publication Date: June 7, 2011
About the Author
Born in Toronto, Brenda L. Baker spent her working life writing computer programs in Canada, the United States and the Netherlands. Her passion is exploring new cultures, with knitting and reading tied for second place. She likes cats, but resists owning one herself, since everyone knows little old ladies can't just stop at one.
For me, one of the most fascinating aspects of travel is the perspective it gives me on my own cultural bias. When you were reading this book, did any of the events give you a sense of looking at your culture from the outside? What do you think Santoshi, Mary Elizabeth and Laxmi would find intriguing about your world?
Kiria had to lower her standard of living considerably when she moved to India. Were there any aspects of Kiria's new lifestyle that amused or shocked you? How would you cope under those conditions?
The characters in this book were inspired by people I met and worked with while in India. Although their society is radically different from Western society, I felt we shared many of the same concerns. Do you see any similarities between the issues faced by the characters in this book and the issues we face in Western society?
When I read a novel, there is always one special character that I strongly identify with. Sometimes it's one of the main protagonists, but frequently I find myself most attracted to a supporting character. Did you have a favorite character while reading the novel? What attracted you to this person?
I wrote Sisters of the Sari to explore my own confusion about the roles of women in India, and Kiria's emotional journey runs parallel to the path I took while researching the book. Like Kiria, I came to accept the importance of dowries in the lives of Indian women and understand the effects of the caste system on everyday life. What are your views on these issues? Would you have made the same decisions Kiria made?
Kiria and Santoshi both overcame difficult situations when they were younger and went on to create successful lives. How much influence do you think their pasts had on the decisions they made during the story? Which of their strengths and weaknesses do you think were rooted in their histories?
or
Not Currently Available for Direct Purchase