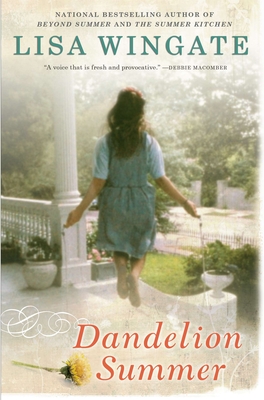 Dandelion Summer (Blue Sky Hill Series #4)
Paperback

* Individual store prices may vary.
Other Editions of This Title:
Digital Audiobook (2/24/2020)
Hardcover, Large Print (9/1/2011)
Description
"A story beautifully told, with richly drawn characters that will...make you want to laugh and cry"* from the #1 New York Times bestselling author of The Book of Lost Friends and Before We Were Yours.

All her life, Epiphany Salerno has been tossed like a dandelion seed on the wind. Now, at sixteen, she must move to the low-rent side of Blue Sky Hill and work where she's not wanted: in an upscale home on The Hill.

J. Norman Alvord's daughter has hired a teenager to stay with him in the afternoons. Widowed and suffering from heart trouble, Norman wants to be left alone. But in Epie's presence, Norman discovers a mystery. Deep in his mind lie memories of another house, another life, and a woman who saved him.

As summer comes to Blue Sky Hill, two residents from different worlds will journey through a turbulent past, and find that with an unexpected road trip through sleepy Southern towns comes life-changing friendship...and clues to a family secret hidden for a lifetime.

Winner of the 2012 Carol Award for Women's Fiction from the American Christian Fiction Writers
Praise For Dandelion Summer (Blue Sky Hill Series #4)…
Praise for Dandelion Summer
 
"A rare gem of a book....It's a story beautifully told, with richly drawn characters that will squeeze your heart and make you want to laugh and cry at the same time.  Like dandelion seeds, J. Norm and Epie will take root in your heart and stay with you long after you've closed the last page."—*New York Times bestselling author Karen White
 
"A gripping and beautifully told story that crosses generations and reminds us it is love that changes our world. With both startling insight and humor, Lisa Wingate tells a story that takes the reader to the moon and back to the human heart. Dandelion Summer has a compassionate and lyrical heartbeat you won't want to miss."—New York Times bestselling author Patti Callahan Henry

"An old man's haunting memories and a young girl's dreams merge in Lisa Wingate's absolutely unforgettable story of hope and reconciliation."—New York Times bestselling author Sherryl Woods

"Humor, family drama and an unlikely friendship meld together to make Wingate's latest novel shine. The author's real strength is in her character development, giving each character a unique and likable personality—even when it's a prickly one on the surface."—RT Book Reviews

"Wingate roots her tender tale in hope, redemption, and family by following two engaging characters in her latest entry to the Texas-based Blue Sky Hill series."—Publishers Weekly

More Praise for Lisa Wingate

"A master-storyteller."—Parade

"Wingate's novels, like those of Nicholas Sparks and Richard Paul Evans and others, takes a middle ground between Christian and mainstream fiction—uplifting, clean and inspiration but not overtly religious."—Bryan-College Station Eagle

"A remarkably talented and innovative writer, with a real feel for human emotions."—Linda Lael Miller
Berkley, 9780451233271, 448pp.
Publication Date: July 5, 2011
About the Author
Lisa Wingate is the #1 New York Times bestselling author of over thirty novels. She is known for combining elements of Southern storytelling, mystery, and history to create novels hailed by Publishers Weekly as "masterful." Her novel Before We Were Yours remained on the New York Times bestsellers list for over five months and has been translated into thirty-five languages. While her work has received many awards, she most treasures the National Civics Award, presented by the kindness watchdog organization Americans for More Civility, to recognize public figures who work to promote greater kindness and civility in American life. She believes that stories can change the world.
Book Videos
Early in the story, Norman feels that the best part of his life has passed him by. Have you ever yearned for a time in the past? Is there a period of your life you would return to, if you could? Do you associate this time with particular events in the nation or in the world?
Norman and his daughter find themselves at odds over Norman's care. What difficulties are inherent in the reversal of roles that comes as parents age? What can we do to ease this transition for both aging parents and caregivers?
Although she is smart and talented, Epiphany lacks confidence and is trapped in a difficult situation. Her friendship with Norman changes her life. Has a friendship ever dramatically changed your life?
Norman and Epiphany's cross-generational relationship is rich for both of them. How can close relationships with people of very different ages benefit us? What cross-generational relationships have you enjoyed the most?
Epiphany is torn between the negative influences of her family and her surroundings, and an innate inner drive to live a different sort of life. How do early family and cultural experiences preprogram us to think and act in certain ways? What aspects of you character hail from the environment in which you were raised?
Norman begins to suspect that a family secret has been hidden from him all of his life. Why do you think his adopted parents chose not to tell him about his past? Do you think it was the right choice? Have you ever discovered secrets that had been hidden in your family?
What is your impression of Cecile? If not for the fire, do you think she would have sought a way to help the children in the house with the seven chairs? What do you think became of her after the children were moved to new homes?
Even though Dandelion Summer deals with serious issues, there are many funny scenes? What is your favorite humorous scene?
The real Surveyor 1 craft is still sitting on the surface of the moon, where it has remained since its mission was finished and its hardware was shut down. Its engineers wonder what has become of their creation. What do you remember about the space missions?
As the country faces major technological challenges-how to feed and house a growing population, and how to address pollution and diminishing resources, for example-many people rely on American technological ingenuity and innovation to solve the problem. Others fear that our faith in technology has outpaced our ability.
Discuss the qualities required of a nation to "be the best" and remain on the cutting edge of technology. Do we as a nation still possess those qualities?
What do you think will become of Norman and Epiphany in the future?