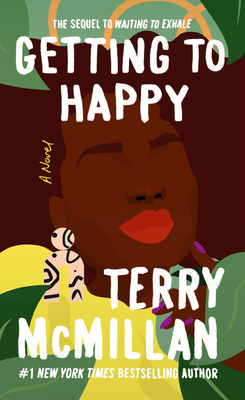 Getting to Happy (A Waiting to Exhale Novel) (Paperback)
Berkley, 9780451233349, 448pp.
Publication Date: June 7, 2011
Other Editions of This Title:
Digital Audiobook (9/6/2010)
Paperback (7/31/2012)
Hardcover (9/7/2010)
Compact Disc (9/7/2010)
Hardcover, Large Print, Large Print (10/1/2010)
Paperback (9/7/2010)
Paperback, Large Print (6/10/2011)
Pre-Recorded Audio Player (9/7/2010)
* Individual store prices may vary.
Description
An exuberant return to the four unforgettable heroines of Waiting to Exhale—the novel that changed African American fiction forever.

Terry McMillan's Waiting to Exhale was more than just a bestselling novel—its publication was a watershed moment in literary history. McMillan's sassy and vibrant story about four African American women struggling to find love and their place in the world touched a cultural nerve, inspired a blockbuster film, and generated a devoted audience.

Now, McMillan revisits Savannah, Gloria, Bernadine, and Robin fifteen years later. Each is at her own midlife crossroads: Savannah has awakened to the fact that she's made too many concessions in her marriage, and decides to face life single again—at fifty-one. Bernadine has watched her megadivorce settlement dwindle, been swindled by her husband number two, and conned herself into thinking that a few pills will help distract her from her pain. Robin has an all-American case of shopaholism, while the big dream of her life—to wear a wedding dress—has gone unrealized. And for years, Gloria has taken happiness and security for granted. But being at the wrong place at the wrong time can change everything. All four are learning to heal past hurts and to reclaim their joy and their dreams; but they return to us full of spirit, sass, and faith in one another. They've exhaled: now they are learning to breathe.
About the Author
Terry McMillan is the #1 New York Times bestselling author of Waiting to Exhale, How Stella Got Her Groove Back, A Day Late and a Dollar Short, The Interruption of Everything, I Almost Forgot About You, and the editor of Breaking Ice: An Anthology of Contemporary African-American Fiction. Four of Ms. McMillan's novels have been made into movies: Waiting to Exhale (Twentieth Century Fox, 1995); How Stella Got Her Groove Back (Twentieth Century Fox, 1998); Disappearing Acts (HBO Pictures, 1999); and A Day Late and a Dollar Short (Lifetime, 2014). She lives in California.
Praise For Getting to Happy (A Waiting to Exhale Novel)…
"The Women of 
Waiting to Exhale
have returned…McMillan fans won't be disappointed."  —
Dallas Morning News
 "It's great to meet up with old friends again." —
People
 "Required reading for anyone who cared about Waiting to Exhale."
—
Miami Herald
 "Signature McMillan...[An] earthy, funny, personal voice." —
Raleigh News & Observer
 "A phenomenal read." —
San Francisco Bay View
Did you read Waiting to Exhale? If so, does this novel follow the arc that you imagined for these characters? If you haven't read McMillan's earlier novel, do you plan to now?
Do you have a core group of friends like those in Getting to Happy? What role do your friends play in your life? What do you contribute to their lives?
Which character is most like you? Which character reminded you of one of your friends?
Savannah urges the friends to give each other blunt, honest advice, saying, "Sometimes we need somebody to just tell us what to do even though we already know it" (p. 249). What advice would you give yourself?
Reread the epigraphs at the beginning of the book. What do they mean? How do they reflect the events in each character's life?
Savannah asks Jasper, "How do you measure happiness?" (p. 303). What did you think of his and her responses? What does happiness mean to the other characters in the novel? How do you measure happiness?
How have you changed over the past fifteen years? Where do you hope to be in the next fifteen years? What are you currently doing to achieve those goals?
Getting to Happy is written from alternating points of view. In what ways is each woman's voice unique? How did getting the other characters' perspectives enhance your understanding of each woman?
Which character''s situation did you most sympathize with? Whose behavior did you find most frustrating? Whose storyline did you find most satisfying? Consider both the major and minor characters.
Onika, Sparrow, and Taylor are as interesting and well defined as Savannah, Bernadine, Robin, and Gloria. Compare and contrast these three young women. What do they contribute to the novel?
Choose your favorite character and discuss how you imagine her life will change after another fifteen years.