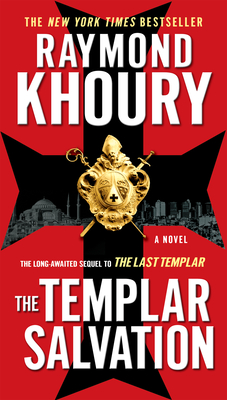 The Templar Salvation (A Templar Novel #2) (Paperback)
Berkley, 9780451234278, 592pp.
Publication Date: July 26, 2011
* Individual store prices may vary.
Description
From New York Times bestselling author Raymond Khoury comes a "a full-throttle action-adventure thriller" (Library Journal) that's even more shocking and explosive than The Last Templar…
 
Constantinople, 1203: As the ravaging armies of the Fourth Crusade lay siege to the city, a secretive band of Templars infiltrate the imperial library. Their target: a cache of documents that must not be allowed to fall into the hands of the Doge of Venice. They escape with three heavy chests, filled with explosive secrets that these men will not live long enough to learn...
 
Vatican City, present day: FBI agent Sean Reilly infiltrates the Pope's massive Vatican Secret Archives of the Inquisition. No one but the Pope's trusted secondi is allowed in--but Reilly has earned the Vatican's trust, a trust he has no choice but to violate. A vicious, uncompromising terrorist bent on revenge has kidnapped Tess Chaykin, and the key to her freedom lies in this underground crypt, in the form of a document known as the Fondo Templari—the secret history of the infamous Templars...
About the Author
Raymond Khoury is the New York Times bestselling author of The Last Templar, The Sanctuary, The Sign, The Templar Salvation, The Devil's Elixir, Rasputin's Shadow, and The End Game. His novels have been translated into more than forty languages and, in the case of The Last Templar, adapted into a comic book and an NBC television miniseries. An acclaimed screenwriter and producer for both television and film, he has also penned several scripts for BBC series such as Spooks and Waking the Dead.
Praise For The Templar Salvation (A Templar Novel #2)…
Praise for The Templar Salvation
 
"[A] sublime narrative. The result is a full-throttle action-adventure thriller wrapped in a political cautionary tale with a gratifyingly eloquent center."—Library Journal
 
"[A] very well-constructed blend of historical mystery and present-day thriller....There's no denying he's got the storytelling chops."—Booklist
 
"The constant suspense, ever-mounting body count, and interesting historical lore will keep readers turning the pages."—Publishers Weekly
 
"Irresistible to faithful Temple fans."—Kirkus Reviews