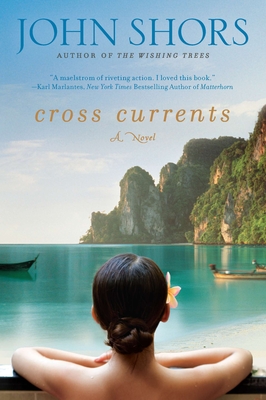 Cross Currents
Paperback

* Individual store prices may vary.
Description
Thailand's pristine Ko Phi Phi island attracts tourists from around the world. There, struggling to make ends meet, small-resort owners Lek and Sarai are happy to give an American named Patch room and board in exchange for his help. But when Patch's brother, Ryan, arrives, accompanied by his girlfriend, Brooke, Lek learns that Patch is running from the law, and his presence puts Lek's family at risk. Meanwhile, Brooke begins to doubt her love for Ryan while her feelings for Patch blossom.
In a landscape where nature's bounty seems endless, these two families are swept up in an approaching cataclysm that will require all their strength of heart and soul to survive...
Praise For Cross Currents…
"Gripping, moving, and ravishingly written, Shors' latest is a stunning story of family, connection, and the astonishing power of nature."—Caroline Leavitt, New York Times bestselling author of Pictures of You

"A maelstrom of riveting action. I loved this book." — Karl Marlantes, New York Times bestselling author of Matterhorn

"A supremely readable tale." — Joan Silber, bestselling author of The Size of the World
Berkley, 9780451234605, 352pp.
Publication Date: September 6, 2011
About the Author
John Shors traveled extensively throughout Asia after graduating from Colorado College. His novels have been translated into 25 languages.
Where were you when the Indian Ocean tsunami struck on December 26, 2004?
What was your reaction to the catastrophe?
Some novelists avoid real-life subjects that are bound to evoke powerful negative emotions in readers. Do you think John Shors brings the story of the disaster to life in a way that honors those who suffered and died?
The author traveled multiple times to Ko Phi Phi before and after the tsunami struck. Do you think it's important for writers to have such personal connections with the places they write about?
Cross Currents explores the relationships between locals and tourists. In real life, do you think each set of people understands the other?
How do you think people from different cultures best learn from one another?
What do you think of Patch's initial decision to flee Thailand, rather than to turn himself in? If you were a member of his family, would you try to convince him to take another path?
Lek and Sarai assume a significant amount of risk when they let Patch stay with them for such an extended time. Do you think they make the right decision?
Why do you think Brooke decides to share her past with Patch? By doing so, does she knowingly or unknowingly bring them closer together? Why do you think John Shors chose to handle the issue this way?
What aspect of the changing romantic relationships in the novel do you find most interesting?
What do you think about the relationship between Ryan and Dao? What is each character looking for?
Lek and Sarai depend on their children to help draw business to their resort. Discuss their distaste at having to exploit their children in this way. Can you think of times when you might have exploited your children, in small or large ways, or incidents when you've seen other parents exploit their children?
Which character faces the greatest challenge and rises to the occasion most impressively?
If you had lived on Ko Phi Phi, and endured the tsunami, would you have left afterward?
Imagine that many years have passed since the tsunami. What do you think life is now like for Lek and his family? Do you think Patch kept his promise to make his life count?
or
Not Currently Available for Direct Purchase