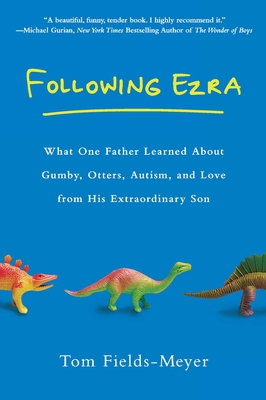 Following Ezra
What One Father Learned About Gumby, Otters, Autism, and Love From His Extraordi nary Son
Paperback

* Individual store prices may vary.
Description
A heartwarming, intimate and amusing memoir of a father's experience raising his autistic son.
When Tom Fields-Meyer's son Ezra was three and showing early signs of autism, a therapist suggested that the father needed to grieve.
"For what?" he asked.
The answer: "For the child he didn't turn out to be."
That moment helped strengthen the author's resolve to do just the opposite: to love the child Ezra was, a quirky boy with a fascinating and complex mind. Full of tender moments and unexpected humor, Following Ezra is the story of a father and son on a ten-year journey from Ezra's diagnosis to the dawn of his adolescence. It celebrates his growth from a remote toddler to an extraordinary young man, connected in his own remarkable ways to the world around him.
Praise For Following Ezra: What One Father Learned About Gumby, Otters, Autism, and Love From His Extraordi nary Son…
"Following Ezra is a revelation. I could not put it down. This inspiring memoir of a father raising (and being raised by) his autistic son is a great lesson about patience and the blessings that can come when we let our unique children lead us." — Rabbi Naomi Levy, author of To Begin Again and Hope Will Fin

"A riveting account of raising one special boy, Following Ezra is a powerful story for parents of any child. This inspiring book shows us that seeing meaning and depth in our children's idiosyncrasies is crucial to raising strong, secure and resilient kids. Tom Fields-Meyer has written a beautiful, funny, tender book."—Michael Gurian, New York Times bestselling author of The Wonder of Boys

"Anyone who is raising a child with special needs should read Following Ezra. It shows how warmth and humor--yes, humor--can help not just the child, but the family, more than most of us could ever imagine." — James Patterson, New York Times bestselling author

"The moving, fascinating story of a father's journey toward understanding and hope."—Daniel Tammet, New York Times bestselling author of Born on a Blue Day

"Following Ezra is an unsentimental, beautifully written memoir about a boy whose limitations and gifts are as extraordinary as his impact on the reader's life. Like Ezra himself, this book is by turns funny, painful, poignant and scrupulously honest." — Rabbi David J. Wolpe, author of Why Faith Matters

"I trust the parent who yields to wonder and celebrates the unexpected. Love is the river that runs through this book. Dignity and grace light each page." — Beth Kephart, National Book Award finalist for A Slant of Sun,

"When Tom Fields-Meyer's son Ezra was diagnosed with autism, the author decided to forego mourning for the child who might have been, and concentrate instead on the delightful kid he had. Following Ezra is at once a meticulous description of what it is to parent a child who has autism, and a salute to the kid whose mind takes both of them to mysterious, profound, and silly places we so-called typical adults can scarcely imagine."—Carolyn See, author of Making a Literary Life, and grandmother of a child with autism
Berkley, 9780451234636, 256pp.
Publication Date: September 6, 2011
About the Author
Tom Fields-Meyer is an author and journalist. A former senior writer for People, he has written for dozens of publications, including The New York Times Magazine and The Wall Street Journal. A native of Portland, Oregon and a graduate of Harvard, he lives in Los Angeles with his wife and their three sons.
or
Not Currently Available for Direct Purchase