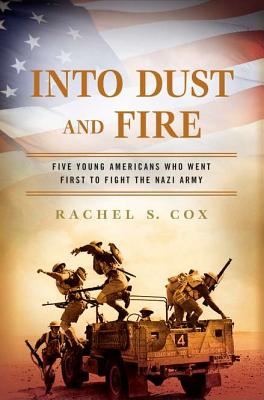 Into Dust and Fire (Hardcover)
Five Young Americans Who Went First to Fight the Nazi Army
New American Library, 9780451234759, 336pp.
Publication Date: April 3, 2012
Other Editions of This Title:
Paperback (4/2/2013)
* Individual store prices may vary.
Description
The untold story of five young American friends who left the ivory towers at Harvard and Dartmouth to take on the Nazi's
In the spring of 1941, with Europe consumed by war and occupation, Britain stood alone against the Nazi menace. The United States remained wary of joining the costly and destructive conflict. But for five extraordinary young Americans, the global threat of fascism was too great to ignore.
Six months before Pearl Harbor, these courageous idealists left their promising futuresbehind tojoin the beleaguered British Army. Fighting as foreigners, they were shippedoff to jointhe Desert Rats, the 7th Armored Division of the British Eighth Army, who were battling Field Marshal Rommel's panzer division. The Yanks would lead anti-tank and machine-gun platoons into combat at the Second Battle of El Alamein, the twelve-day epic of tank warfare that would ultimately turn the tide for the Allies.
A fitting tribute to five men whose commitment to freedom transcended national boundaries, "Into Dust and Fire" is a gripping true tale of idealism, courage, camaraderie, sacrifice, and heroism.
About the Author
Rachel S. Cox writes regularly for the "Washington Post" and "CQ Researcher." Her articles have appeared in "AARPBulletin," "Preservation," "Landscape Architecture," and other national magazines. She was formerly an editor of "Preservation" magazine, and as a writer/editor at Time-Life Books, she wrote for the Civil War and Fighting Jets series. A resident of Washington, D.C., she holds a BAcum laude in English from Harvard. Inspired by the experience of her uncle, Rob Cox, "Into Dust and Fire" is her first book."
Praise For Into Dust and Fire: Five Young Americans Who Went First to Fight the Nazi Army…
"A multifaceted, moving story… extraordinary… terrific… A unique take on the war, from the point of view of the young, idealistic and foolhardy."
-Kirkus Reviews

"A moving, beautifully-written tale of five young Ivy Leaguers, romantics and idealists all, who left their privileged lives in peacetime America to join the British Army in its pre-Pearl Harbor struggle against the Nazis. In her quest to trace the wartime experiences of her uncle, Rob Cox, and his four colleagues, Rachel Cox has produced a masterpiece of storytelling, infused with romance, danger, adventure, humor, and heartbreaking loss. It is, hands down, the best description of the transformation of untested young men into soldiers that I have ever read."
-Lynne Olson, author of Citizens of London and Troublesome Young Men

"Rachel S. Cox's Into Dust and Fire is an inspired saga about a group of young Americans who hated Nazi totalitarianism to the core. Their rash bravery is the stuff of legend. This is an important new contribution to our growing World War II must-read library."
-Douglas Brinkley, New York Times Bestselling Author of The Wilderness Warrior

"Rachel Cox's book achieves a kind of miracle—bringing to startling life the story of five young Americans who volunteered to fight for Britain in North Africa while the United States was still sitting out the war behind the Atlantic Ocean. Cox is a vigorous, intelligent writer, and her book is a dramatic tale of war, love, hardship, suffering and loss."
-Thomas Powers, Pulitzer Prize-Winning Author of The Killing of Crazy Horse

"Into Dust and Fire is a beautifully-written book that evokes World War II in North Africa in a way that has rarely—if ever—been bettered. Touching, moving, and thought-provoking, this is a wonderful, exquisitely crafted book."
-James Holland, author of The Battle of Britain

"An elegantly-written story of five unheralded American heroes who left the security of their Ivy League schools to fight the war against Nazi Germany—before the rest of the nation joined the battle. Rachel Cox has written an inspiring, richly-documented historical account that captures the essence of American valor. Into Dust and Fire fills in an essential piece of World War II history that will last for the ages."
-Ken Gormley, Dean and Professor of Law at Duquesne University
or
Not Currently Available for Direct Purchase