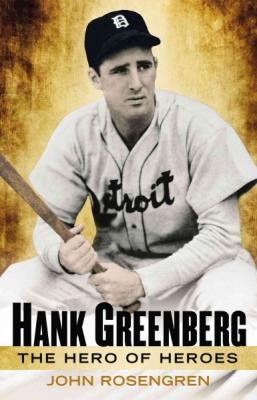 Hank Greenberg (Hardcover)
The Hero of Heroes
New American Library, 9780451235763, 392pp.
Publication Date: March 5, 2013
Other Editions of This Title:
Paperback (3/4/2014)
* Individual store prices may vary.
Description
Baseball in the 1930s was more than a national pastime; it was a cultural touchstone that galvanized communities and gave a struggling country its heroes despite the woes of the Depression. Hank Greenberg, one of the most exciting sluggers in baseball history, gave the people of Detroit a reason to be proud.
But America was facing more than economic hardship. With the Nazis gaining power across Europe, political and social tensions were approaching a boiling point. As one of the few Jewish athletes competing nationally, Hank Greenberg became not only an iconic ball player, but also an important and sometimes controversial symbol of Jewish identity and the American immigrant experience.
When Hank joined the Detroit Tigers in 1933, they were headed for a dismal fifth-place season finish. The following year, with Hank leading the charge, they were fighting off the Yankees for the pennant. As his star ascended, he found himself cheered wherever he went. But there were other noises also. On and off the field, he met with taunts and anti-Semitic threats. Yet the hardship only drove him on to greater heights, sharing the spotlight with the most legendary sluggers of the day, including Babe Ruth, Jimmie Foxx, and Lou Gehrig.
"Hank Greenberg" offers an intimate account of the man's life on and off the field. It is a portrait of integrity, triumph over adversity, and one of the greatest baseball players to ever grace the field.
About the Author
John Rosengren is an award-winning author whose other books include "Hammerin' Hank, " "George Almighty and the Say HeyKid: The Year That Changed Baseball Forever" and "Blades of Glory: The True Story of a Young Team Bred to Win." His articles have appeared in"Men's Journal," "Reader's Digest," "Runner's World," "Sports Illustrated" and "Utne Reader," among other publications.He is a member of the Society for American BaseballResearch and the American Society of Journalists and Authors.He lives with his wife Maria and their two children in Minneapolis and plays catcher in a 35-over league."
Praise For Hank Greenberg: The Hero of Heroes…
"Rosengren pens a textured tale—of Henry Greenberg, the Moses of Baseball; Hankus Spankus, the home run king and Hall of Famer; and Hank himself, steadfast son, teammate and father. This is a book for those who don't know this Hero of Heroes and, much more, for those who think they do."—Larry Tye, New York Times bestselling author of Satchel: The Life and Times of an American Legend

"Greenberg became an icon for American Jews and filled that role with dignity… Rosengren's well-written book is recommended to all fans."—Library Journal




 
or
Not Currently Available for Direct Purchase