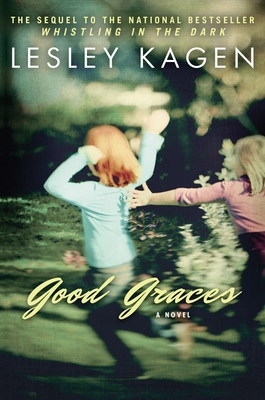 Good Graces (Paperback)
Berkley, 9780451236654, 416pp.
Publication Date: May 1, 2012
Other Editions of This Title:
Digital Audiobook (8/31/2011)
Compact Disc (9/1/2011)
Hardcover (9/1/2011)
MP3 CD (9/1/2011)
Compact Disc (1/17/2012)
* Individual store prices may vary.
Description
To this day, my sister insists it was nothing more than the unrelenting heat that drove us to do what we did that summer, but that's just Troo yanking my chain the way she always has. Deep down, she knows as well as I do that it wasn't anything as mundane as the weather. It was the hand of the Almighty that shoved us off the straight and narrow path… 

Whistling in the Dark—a national bestseller—captivated readers with the story of ten-year-old Sally O'Malley and her sister, Troo, during Milwaukee's summer of 1959. Now it's one year later, and Sally, who made a deathbed promise to her daddy to keep Troo safe, is having a hard time honoring her vow. Her sister is growing increasingly rebellious amid a string of home burglaries, the escape from reform school of a nemesis, and the mysterious disappearance of an orphan—events that have the entire neighborhood on edge. And in that tense, hot summer, Sally will have to ground her flights of imagination, and barter her waning innocence, in order to sort the truths from the lies to protect her sister and herself.  
About the Author
Lesley Kagen is the author of the national bestseller Whistling in the Dark, Land of a Hundred Wonders, and Tomorrow River. She lives near Milwaukee, Wisconsin.
Praise For Good Graces…
"Good Graces deftly dwells in '60's Milwaukee. Through her preteen narrator, Sally O'Malley, she (Kagen) evokes the joys, sorrows and complexities of growing up…" — Milwaukee Journal Sentinel

"A beautifully woven story…You will weep for and cheer on the O'Malley sisters…[and] immediately miss them once the last page is turned." — Heather Gudenkauf, New York Times bestselling author of These Things Hidden

"Moving, funny, and full of unexpected delights, this is one sequel that just might be even better than the original gem. Kagen crafts a gorgeous page turner about love, loss and loyalty, all told in the sparkling voices of two extraordinary sisters." — Caroline Leavitt, New York Times bestselling author of Pictures of You

"For all the praise garnered for Whistling in the Dark, Good Graces more than lives up to its predecessor." — School Library Journal

"Spend happy hours following the O'Malley sisters through the sweltering summer of 1960 on Milwaukee's West Side. This humorous, passionate novel of childhood is full of evocative local detail and the lives of wild, smart children." — Milwaukee Magazine
Let's talk about the time and setting of the book. Does it resonate with you? If so, share some memories of those good old days.
Children are not allowed the same freedom today as they were back in the fifties and sixties. As in all things, there are positives and negatives. Can you think of a few?
Much of what Sally and Troo learn is gleaned from eavesdropping and gossip. Communication between adults and children has dramatically changed over the past fifty years. Discuss how it was back then versus now.
Adults seem to think traumatized Sally suffers from over-imagination, cured with weekly does of cod liver oil. How does their treatment of her differ from how victimized children are cared for today?
How much of Sally's devotion to Troo is based on love for her sister versus her deep sense of responsibility to her daddy? How you do think Troo sees Sally?
The Catholic Church plays an important role in the neighborhood. Do you think religion still plays as vital a part in our lives as it used to? Why or why not?
Sally has a pretty good grasp of the racial, sexual and class structures in the neighborhood. Growing up, were you aware of prejudices? How did they affect your views at the time?
Why do you think Sally depends on Ethel so much? What does she get out of the relationship?
Family dynamics are complicated, but none more so than the relationship between sisters. Can you describe your experience with your sister or sisters?
So much mental illness went undiagnosed during these times. Name a few characters who might have been a lot better off had they been born now rather than then.
What do you think of Helen as a mother? Do you find her strong/disinterested/a product of her era?
Near the end of the book, the girls commit an act that will affect them for the rest of their lives. Discuss how you feel about how they handled the situation. What would you have done in their shoes?
After Sally visits Sampson at the zoo, he doesn't seem to recognize her. Sally is surprised that she isn't really bothered that much by his cool reception. Why do you think this is? How had Sally changed since the beginning of the book, and if your read it, since Whistling in the Dark?
What do you suppose happens to the main characters after the story ends?