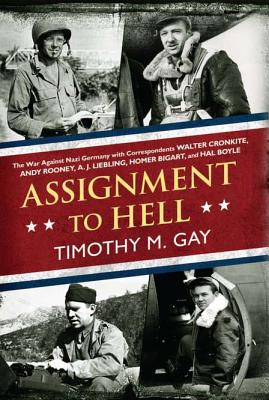 Assignment to Hell
The War Against Nazi Germany with Correspondents Walter Cronkite, Andy Rooney, A. J. Liebling, Homer Bigart, and Hal B
Hardcover

* Individual store prices may vary.
Description
THEIR WORK ON THE FRONT LINES MADE HEADLINES
In February 1943, a group of journalists including a young wire service correspondent named Walter Cronkite and cub reporter Andy Rooney clamored to fly along on a bombing raid over Nazi Germany. Seven of the sixty-four bombers that attacked a U-boat base that day never made it back to England. A fellow survivor, Homer Bigart of the "New York Herald" "Tribune," asked Cronkite if he d thought through a lede. I think I m going to say, mused Cronkite, that I ve just returned from an assignment to hell.
During his esteemed career Walter Cronkite issued millions of words for public consumption, but he never wrote or uttered a truer phrase.
"Assignment to Hell" tells the powerful and poignant story of the war against Hitler through the eyes of five intrepid reporters. Crisscrossing battlefields, they formed a journalistic band of brothers, repeatedly placing themselves in harm's way to bring the war home for anxious American readers.
Cronkite crashed into Holland on a glider with U.S. paratroopers. Rooney dodged mortar shells as he raced across the Rhine at Remagen. Behind enemy lines in Sicily, Bigart jumped into an amphibious commando raid that nearly ended in disaster. "The New Yorker"'s A. J. Liebling ducked sniper fire as Allied troops liberated his beloved Paris. The Associated Press's Hal Boyle barely escaped SS storm troopers as he uncovered the massacre of U.S. soldiers during the Battle of the Bulge.
"Assignment to Hell" is a stirring tribute to five of World War II's greatest correspondents and to the brave men and women who fought on the front lines against fascism their generation's assignment to hell.
Praise For Assignment to Hell: The War Against Nazi Germany with Correspondents Walter Cronkite, Andy Rooney, A. J. Liebling, Homer Bigart, and Hal B…
"Assignment to Hell is a book every modern journalist—and citizen—should read. The 'assignment' is World War II, the largest event in the history of mankind, a war unlike any other before or since. The men who covered it on the front lines, in the air and at sea were beyond brave and resourceful—and great company for each other. Those legendary journalists, Cronkite and Rooney among them, were the eyes and ears of a nation depending on them for stories that instructed, inspired and entertained. I salute them all." 
-Tom Brokaw, author of The Greatest Generation

"If one can say that reading a book titled Assignment to Hell was a delight, I say it now. The stories are so vivid and alive all these years later that I felt I was there with the legendary correspondents of World War II as they wrote their way from France to Germany."
-David Maraniss, Pulitzer Prize-winning author of They Marched Into Sunlight

"World War II was also fought by a free press. Assignment to Hell is a worthy story about great and adventurous reporters, my father among them, who flew in the bombers, jumped with parachutes, and ducked into foxholes to report news of the war home to America."
-Brian Rooney, former ABC New correspondent

"Tim Gay brilliantly tells the tale of five of the greatest reporters of World War II chasing the biggest story of their lives, filing the first draft of history with their newspapers while writing letters home to wives and girlfriends with the first version of lifelong family lore."
-Chip Cronkite, son of Walter Cronkite
Nal Caliber, 9780451236883, 508pp.
Publication Date: May 1, 2012
About the Author
Timothy M. Gay is the author of "Satch, Dizzy, & Rapid Robert: The Wild Saga of Interracial Baseball before Jackie Robinson" and "Tris Speaker: The Rough-and-Tumble Life of a Baseball Legend." His essays and op-eds on American history, politics, public policy, and sports have appeared in the "Washington Post," the "Boston Globe," "USA Today," and many other publications. A graduate of Georgetown University, where he majored in American history, Tim lives in Virginia with his wife and children. "
or
Not Currently Available for Direct Purchase