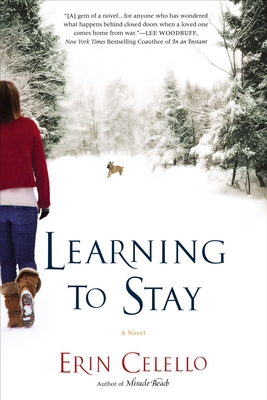 Learning to Stay
Paperback

* Individual store prices may vary.
Other Editions of This Title:
MP3 CD (9/1/2013)
Compact Disc (9/1/2013)
Compact Disc (2/1/2014)
Compact Disc (2/5/2013)
Compact Disc (2/5/2013)
MP3 CD (9/2/2014)
Compact Disc (9/2/2014)
MP3 CD (9/1/2013)
Compact Disc (9/1/2013)
Description
Elise Sabato is proud of her husband, Brad, for serving his country...and grateful when he returns home to her. But the traumatic brain injury he suffered in Iraq has turned him from a thoughtful, brilliant, and patient man into someone quite different....someone who requires more care and attention than Elise can give while working in a demanding law firm. And when Brad ends up on his family's farm, hundreds of miles away, she wonders where their marriage is headed.

Elise must decide between the life she always wanted and the life she seems to be living…until she finds inspiration in the most unlikely of places: a lovable dog named Jones who teaches her that when the best-laid plans take unexpected turns, sometimes you end up right where you were meant to be.
Praise For Learning to Stay…
Praise for Learning to Stay

"[A] gem of a novel...For anyone who has wondered what happens behind closed doors when a loved one comes home from war..."--Lee Woodruff, co-author of New York Times bestselling In an Instant

"A timely novel, but also a novel that speaks to the tides of any marriage, in peacetime or at war."--Joseph Monninger, author of Margaret from Maine

"Riveting and tender...the emotional battle a wife must wage to bring her husband back to her."--Erika Marks, author of The Mermaid Collector

"Inspiring..."--John Shors, author of Temple of a Thousand Faces

Berkley, 9780451236975, 352pp.
Publication Date: February 5, 2013
About the Author
Erin Celello is the author of Miracle Beach and Learning to Stay. She was born and raised in the Upper Peninsula of Michigan, where she also earned an MFA in fiction from Northern Michigan University. She lives in Madison, Wisconsin, with her husband, two young sons, and two unruly Vizslas. She teaches writing at the University of Wisconsin-Whitewater.
What was your general reaction to reading Learning to Stay?
Did you know anything about post-traumatic stress syndrome and traumatic brain injury before reading the book? What did you learn that most surprised or shocked you?
Discuss the company culture and expectations at Elise's job at the law firm, within the context of the novel and from your own job experience. Are they unrealistic expectations, or necessary ones? Do they exact too high a price? Is it a price you would be willing to pay, especially during this time of high unemployment?
Discuss Elise's efforts to get Brad help. Does she do enough, or does she pack him off to his dad too soon? Not soon enough? Would you have handled the situation differently?
Should more tax dollars go to supporting U.S. veterans? Have you seen indications that more services are being made available? What additional programs would you like to see?
Learning to Stay is, at heart, about a marriage in crisis. Is it fair to say that the marriage is saved by the dog Jones?
Animals can perform amazing services for humans. Discuss the stories you've heard, or personally experienced, in which an animal enriched, or even saved, a human life.
Darcy thinks Elise should stand by Brad no matter what. Sondra urges her to leave him. If you were in Elise's situation, what would you do?
Do you think Elise should go ahead and have a child with Brad? What kinds of questions should a couple consider when deciding whether to have a child?
Compare the life Elise might have had with Brad if he hadn't gone to Iraq versus the life she expects to have with him at the end of the novel.
or
Not Currently Available for Direct Purchase