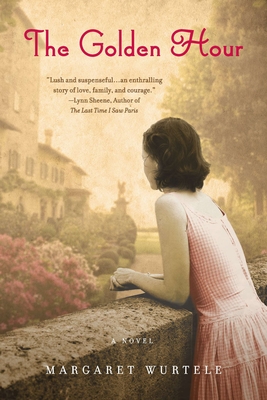 The Golden Hour
Paperback

* Individual store prices may vary.
Description
In this stunning debut set in the summer of 1944 in Tuscany, Giovanna Bellini, the daughter of a wealthy aristocrat and vineyard owner, has just turned seventeen and is on the cusp of adulthood. War bears down on her peaceful little village after the Italians sign a separate peace with the Allies-transforming the Germans into an occupying army.
But when her brother joins the Resistance, he asks Giovanna to hide a badly wounded fighter who is Jewish. As she nurses him back to health, she falls helplessly in love with the brave and humble Marco, who comes from as ancient and noble an Italian family as she does. They pledge their love, and then must fight a real battle against the Nazis who become more desperate and cruel as the Allies close in on them...
Berkley, 9780451237088, 320pp.
Publication Date: February 7, 2012
About the Author
Margaret Wurtele and her husband split their time between Minnesota and Napa Valley, where they are the owners of Terra Valentine Winery. This is her first novel.
During World War II, Mussolini's Fascist party was initially aligned with Hitler's Germany. In the summer of 1943, Mus­solini was overthrown, and Italy switched sides, making a secret agreement with the Allies. The Germans occupied northern Italy and dug in, holding the line against the Allies advancing from the south. Giovanna's father, Enrico, and her mother, Natala, react differently to these shifting alliances. Describe the difference in their attitudes. How do you think you might have reacted under the circumstances?
Giovanna's brother, Giorgio, refuses to enlist and fight with the occupying Germans, instead becoming a partisan resistance fighter. Thousands of Italians did enlist in the National Repub­lican Army as required and fight for the occupying forces. How did Enrico react to his son's decision? How did Giovanna's re­action differ from her father's? How do you feel about each?
Why do you think Giovanna is attracted to Klaus? What might appeal to a young girl about a Nazi officer? Might it have been different had she known more about the Nazi war crimes at the time she met him?
What are the dynamics of Natala and Enrico's marriage? How do their backgrounds, values and motivations differ? How do these play out in the relationship?
How would you characterize Natala? As a wife? As a mother? How does Giovanna react to her and how does that affect her actions in the story?
Sister Graziella is an important mentor for Giovanna. How would you describe her approach to spiritual guidance? What effect does she have on Giovanna's life and actions?
When Graziella gives Giovanna a penance to sweep the convent every day, it becomes almost a form of meditation for her. Have you ever experienced meditation in action like this? Do you think it was effective for Giovanna?
Describe the marchesa's relationship with Giovanna. What did the marchesa contribute to her life that Giovanna did not receive from her own parents?
How does Giovanna's character develop as the novel pro­gresses? Can you track her evolving maturity with specific deci­sions she makes at different points? How do you feel about her? Does that change?
Giovanna is Catholic, and Mario is Jewish. How do their at­titudes toward religion differ? Do you think religion will be a problem for them in their life together?
Most Italians in 1943 and 1944 were unaware of the full extent of the Nazis' crimes against humanity. How might the char­acters in this book have reacted differently had they been fully informed? How did their growing understanding affect their choices as the story progressed?
Discuss the role that Giovanna's father plays in her devel­opment. How do their values differ? Was it necessary for her to leave home? How do you think her leaving affected their rela­tionship? How did Giorgio's death affect each member of the Bellini family? What impact did it have on the family dynamics? Would you describe this novel primarily as a coming-of-age story, or as a novel about World War II? How do you think the war changed Giovanna's relationship with her parents? How much of her disaffection and separation from them would have happened despite the war?
or
Not Currently Available for Direct Purchase