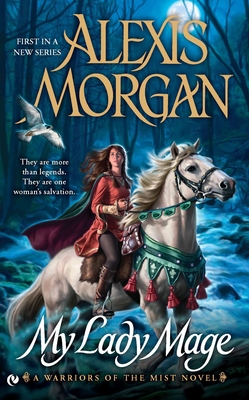 My Lady Mage (Mass Market)
A Warriors of the Mist Novel
Berkley, 9780451237446, 336pp.
Publication Date: July 3, 2012
* Individual store prices may vary.
Description
A cursed destiny. A band of warriors. And one troubled kingdom.

It is whispered in Agathia that the legendary warriors of the mist—cursed by the gods—can be summoned only when a champion is needed and the cause is just. Gideon, their captain, knows this to be the one path that will lead his men to redemption—lest they face an eternity of damnation.

Years have passed since anyone has journeyed to the river's edge, but times are desperate. Oppressed by a cruel guardian whose dark magic threatens to destroy her people, the beautiful and courageous Merewen calls upon the bespelled warriors. In Gideon she finds more than a champion, and in his arms, more than protection. However, their enemies are fighting with a power darker than anything than they imagined, and should Gideon fail, she will lose everything she holds dear—including her heart.  
About the Author
Alexis Morgan has a B.A in English from the University of Missouri—St. Louis. She and her husband make their home in the beautiful Pacific Northwest. Alexis shares her office with two parakeets, who rock out to her favorite music and keep her company while she's writing.

A lifelong avid reader, Alexis loves spending her days creating worlds filled with sexy warriors and the strong women who love them. She has been nominated for numerous industry awards, including the RITA from the Romance Writers of America, the top award in the romance genre.