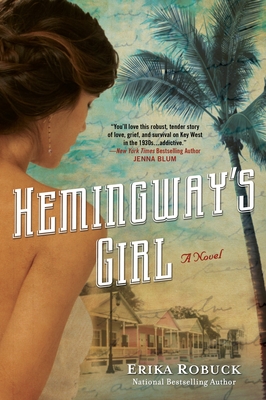 Hemingway's Girl
Paperback

* Individual store prices may vary.
Other Editions of This Title:
Digital Audiobook (3/24/2013)
MP3 CD (3/25/2013)
Compact Disc (3/25/2013)
MP3 CD (3/25/2013)
Compact Disc (3/25/2013)
Compact Disc (3/25/2013)
Hardcover, Large Print (2/22/2013)
Description
From the bestselling author of The House of Hawthorne comes a historical fiction novel that gives life to the women behind novelist Ernest Hemingway in a "robust, tender story of love, grief, and survival on Key West in the 1930s."*

In Depression-era Key West, Mariella Bennet, the daughter of an American fisherman and a Cuban woman, knows hunger. Her struggle to support her family following her father's death leads her to a bar and bordello, where she bets on a risky boxing match...and attracts the interest of two men: world-famous writer, Ernest Hemingway, and Gavin Murray, one of the WWI veterans who are laboring to build the Overseas Highway.

When Mariella is hired as a maid by Hemingway's second wife, Pauline, she enters a rarified world of lavish, celebrity-filled dinner parties and elaborate off-island excursions. As she becomes caught up in the tensions and excesses of the Hemingway household, the attentions of the larger-than-life writer become a dangerous temptation...even as straightforward Gavin Murray draws her back to what matters most.  Will she cross an invisible line with the volatile Hemingway, or find a way to claim her own dreams?  As a massive hurricane bears down on Key West, Mariella faces some harsh truths...and the possibility of losing everything she loves.
Praise For Hemingway's Girl…
"Robuck's breathtaking alchemy is to put us inside the world of Hemingway and his wife Pauline....Dazzlingly written and impossibly moving, this novel is a supernova."—Caroline Leavitt, New York Times bestselling author of Cruel Beautiful World

"You'll love this [novel]...Addictive."—*Jenna Blum, New York Times bestselling author of The Stormchasers

"Richly realized...Readers will delight in the complex relationships and vivid setting."—Publishers Weekly

"A total reading pleasure—ultimately a story about seeking and finding the best in ourselves and in others."—Historical Novel Society, Editor's Choice

"I fell in love with Robuck's Hemingway and with the fiery Mariella Bennet, but what I loved most was the novel's message: that we can inspire each other to be better human beings."—Ann Napolitano, author of A Good Hard Look

"Evokes a setting of the greatest fascination...This is assured and richly enjoyable storytelling."—Margaret Leroy, author of The Soldier's Wife

"Brings to vivid life the captivating and volatile world of a literary legend."—Kristina McMorris, author of The Edge of Lost

"An inspiring story of heartache and renewal. Readers will be sure to enjoy this ode to a literary icon."—Sarah McCoy, bestselling author of The Mapmaker's Children

"Colorful, atmospheric, and a pleasure to plunge into."—Joseph Wallace, author of Diamond Ruby
Berkley, 9780451237880, 352pp.
Publication Date: September 4, 2012
About the Author
Erika Robuck is the national bestselling author of The House of Hawthorne, Fallen Beauty, Call Me Zelda, Hemingway's Girl, and Receive Me Falling. She is a contributor to the fiction blog Writer Unboxed, and she maintains her own blog, Muse. She is a member of the Hawthorne Society, the Hemingway Society, the Historical Novel Society, and the Edna St. Vincent Millay Society. She lives in Annapolis, Maryland, with her husband and three sons.
Book Videos
What did you most enjoy about Hemingway's Girl? Did you make an emotional connection with the characters?
At nineteen, Mariella tends to run with a rough crowd, and she indulges in behavior—drinking, gambling, petty theft—that would not have been considered ladylike during this time. Yet she holds fast to her own standards. Discuss her "moral code" and compare it to the moral code that the Hemingways and Gavin live by.
What do you think draws Mariella and Hemingway together? Do you think their relationship is more romantic or paternal, or something else? What do you think would have happened to her, and to their relationship, if they'd crossed the line into physical intimacy?
What do you think about Mariella's conflicted feelings for Gavin and Hemingway? What are the differences and similarities in the way Mariella views each man? Why do you think Mariella and Gavin choose not to have sex until they're married?
Mariella accuses Hemingway of "collecting" people by using them in his stories. She argues that he is taking away their dignity and demands that he never use her as a character. Do you agree with her? What do you think about Hemingway's admission at the end of the novel that the sea in The Old Man and the Sea is Mariella?
Pauline is frequently angry and jealous over Hemingway's relationships with other women. Did you sympathize with her struggle to keep her husband's affections? Do you agree with Pauline's assertion that Hemingway's "only true love is his writing"?
The Key West community regards Hemingway with great respect and admiration, yet few of them know about his wild mood swings and tendency toward depression. How do you explain his emotional volatility? What do you think Jane Mason means when she says that Hemingway needs Mariella to be his friend?
Hemingway tells Mariella that he envies her poverty, claiming that he was "happy and true" when he was poor and living in Paris. What does this suggest about his current life in Key West?
How does Mariella's relationship with her mother, Eva, change over the course of the novel?
Why does Mariella's family keep secret from her the fact that her father committed suicide? Do you think they make the best choice? Does Mariella blind herself to the truth?
Both Hemingway's father and Mariella's committed suicide. How does the common experience affect their relationship?
Mariella constantly struggles to balance her commitment to her family and the search for her own happiness. Do you respect her for trying? Do you think a contemporary woman would make the same effort?
How did you feel about the treatment of World War I veterans at the Matecumbe work camps, and the veterans' propensity to drink and become violent? How does Hemingway's Girl portray attitudes by the government and the general population toward veterans during the 1930s?
Had you heard of the Labor Day hurricane, and its tragic consequences, before reading this novel? Compare the authorities' response to that devastating storm with the response of government officials to recent hurricanes and other natural disasters.
How does Erika Robuck's description of Key West in the 1930s compare to what you know of the island today? Which version most appeals to you?
Erika Robuck begins and ends the novel in the 1960s, around the time of Hemingway's death. Did you find this "framing device" effective? Would you have told the story differently?
Have you ever read Ernest Hemingway's novels? Which one is your favorite, and why? If not, has this novel inspired you to read his work?