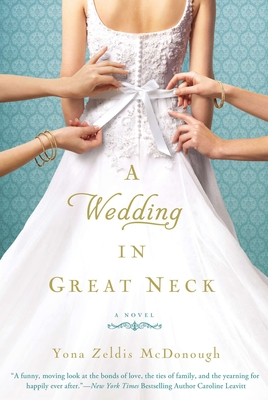 A Wedding in Great Neck (Paperback)
Berkley, 9780451237941, 336pp.
Publication Date: October 2, 2012
* Individual store prices may vary.
Description
The Silverstein family is coming together in Great Neck, Long Island, for the nuptials of the youngest daughter. Always considered the favorite—and the object of much envy and resentment—Angelica has planned a fairy tale wedding to her fiancé, a former fighter pilot. But there are storm clouds on the horizon.

Gretchen, Angelica's sister, is dealing with a failed marriage and her moody teenage daughter Justine. One brother is a callous businessman while the other is struggling with his search for love and a career. Her mother is in a battle of wills with the wedding planner, while her father, a recovering alcoholic, struggles to confront his ex-wife's lavish new life in the Long Island manor of her dreams. And her grandmother Lenore has decided it's high time to take charge and set her grandchildren on their proper paths.

Then an impulsive act by Justine puts the entire wedding at risk and brings the simmering family tensions to the boiling point. Before vows are exchanged, this day will change more than one life forever…
About the Author
Yona Zeldis McDonough is the author of Two of a Kind, her soon-to-be released fifth novel, a second-chance-at-love story between a seemingly mismatched widow and widower. To read the first chapter, arrange a book club visit, or just to say hi, please contact Yona via her website or her Facebook fan pages, which she hopes you'll "like."

Yona's fourth novel, A Wedding in Great Neck, was described as, "A confection that is not only a page-turner but a poignant view of family life..." by Adriana Trigiani and Booklist added, "McDonough has assembled a touching, airy novel that manages to meld the concerns of family members spanning four generations into a delightfully well-written story…With an authorial voice that switches deftly between impulsive teen-speak and a stately matriarch's flashbacks, McDonough's skill is to be commended. A tender, clever story with emotional heft." A Wedding in Great Neck will soon appear in Norway.

Yona is also an award-winning children's book author with twenty-two books to her credit and has been the Fiction Editor at Lilith Magazine for over a dozen years. She lives with her husband, two children and small yappy dogs in Brooklyn, New York.
Praise For A Wedding in Great Neck…
"In prose as sparkling as a champagne toast, McDonough's delicious new novel gathers together one extraordinary wedding, two complicated families, and then shows how a single day can change everything.  A funny, moving look at the bonds of love, the ties of family, and the yearning for happily ever after." — Caroline Leavitt, New York Times bestselling author of PICTURES OF YOU

"A touching, airy novel that manages to meld concerns of family members spanning four generations into a delightfully well-written story. Readers who enjoy Mary Kay Andrews and Nora Roberts will relate to the Silverstein family as it embraces the deep wells of emotion that seem to surface only at major family events. With an authorial voice that switches deftly between impulsive teen-speak and a stately matriarch's flashbacks, McDonough's skill is to be commended. A tender, clever story with emotional heft."--Booklist

"A funny, moving look at the bonds of love, the ties of family, and the yearning for happily ever after." --New York Times bestselling author Caroline Leavitt

"A confection that is not only a page turner but a poignant view of family life...Book clubs will swoon." --New York Times bestselling author Adriana Trigiani

"A wise and witty novel...McDonough limns the ups and downs of family life with a grace that brings to mind Cathleen Schine at her best." --Megan McAndrew, author of Dreaming in French

"Spirited, entertaining, and a delight to read...a penetrating glimpse into the lives of one particular family." --Lucy Jackson, author of Posh

"Emotional and evocative, hilarious and harrowing...a must-read for every mother and daughter who've ever dreamed of, fought over, and loved each other through a wedding day." --New York Times bestselling author Pamela Redmond Satran

"A playful yet touching parsing of the tugs and tangles of familial bonds...exploring contemporary suburban turf with an anthropologist's sharp eye."--Sally Koslow, author of Slouching Toward Adulthood: Observations from the Not-So-Empty Nest

"An interesting take on the wedding novel that doesn't place the bride and groom at the center. Fans of women's fiction about weddings and family drama are sure to enjoy."—Library Journal
or
Not Currently Available for Direct Purchase