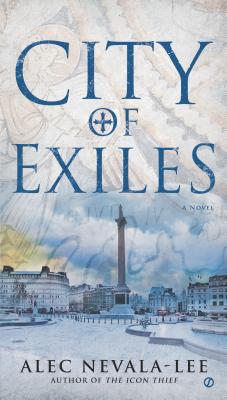 City of Exiles (Mass Market Paperbound)
Signet Book, 9780451238788, 416pp.
Publication Date: December 4, 2012
* Individual store prices may vary.
Description
In the lightning-paced sequel to The Icon Thief, Europe's turbulent past and terrifying future are set to collide in the streets and prisons of Londonand beyond.

Rachel Wolfe, a gifted FBI agent assigned to a major investigation overseas, discovers that a notorious gun runner has been murdered at his home in London, his body set on fire. When a second victim is found under identical circumstances, the ensuing chase plunges Wolfe and her colleagues into a breathless race across Europe, a secret war between two ruthless intelligence factions, and a hunt for a remorseless killer with a deadly appointment in Helsinki.

At the heart of the mystery lies one of the strangest unsolved incidents in the history of Russiathe unexplained death of nine mountaineers in the Dyatlov Pass five decades before. And at the center of it all stands a figure from Wolfe's own past, the Russian thief and former assassin known in another life as the Scythian
About the Author
Alec Nevala-Lee was born in Castro Valley, California. He graduated from Harvard College with a bachelor's degree in Classics, and worked for several years as an associate at a global investment firm based in New York. He lives with his wife in Oak Park, Illinois.
Praise For City of Exiles…
Praise for City of Exiles

"Alec Nevala-Lee creates a dazzlingly detailed and authentic world of intrigue, weaving a harrowing tale that will enthrall readers with an undercurrent of political ambiguity that evokes le Carre and an intricate, continent-crossing plot reminiscent of The Day of the Jackal. Delivering a complex mix of espionage, European politics, Old Testament riddles and Cold War mysteries, Nevala-Lee is clearly emerging as one of the most elegant new voices in suspense literature."—David Heinzmann, author of Throwaway Girl

Praise for The Icon Thief

"Alec Nevala-Lee is no debut author; he must have been a thriller writer in some past life. This one has everything: great writing , great characters, great story, great bad guy and a religious conspiracy too boot. The Icon Thief is smart, sophisticated and has enough fast-paced action to keep anyone up past midnight. I'm jealous."—New York Times bestselling author Paul Christopher
"Twists and turns aplenty lift this thriller above the rest. From the brutal thugs of the Russian Mafia to the affected inhabitants of the American art world, this book introduces a cast of believable and intriguing characters. Add a storyline where almost nothing is as it first appears, and where the plot turns around on itself to reveal startling contradictions, and the result is a book that grips and holds the reader like a vice. I devoured it in a single sitting."—National bestselling author James Becker
"Alec Nevala-Lee comes roaring out of the gate with a novel that's as thrilling as it is thought-provoking, as unexpected as it is erudite. The Icon Thief is a wild ride through a fascinating and morally complex world, a puzzle Duchamp himself would have applauded.  Bravo."—National bestselling author Jesse Kellerman
or
Not Currently Available for Direct Purchase