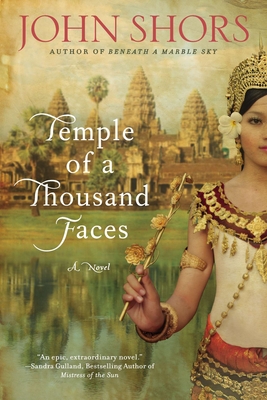 Temple of a Thousand Faces
Paperback

* Individual store prices may vary.
Description
In his international bestseller Beneath a Marble Sky, John Shors wrote about the ancient passion, beauty, and brilliance that inspired the building of the Taj Mahal. Now with Temple of a Thousand Faces, he brings to life the legendary temple of Angkor Wat, an unrivaled marvel of ornately carved towers and stone statues. There, in a story set nearly a thousand years ago, an empire is lost, a royal love is tested, and heroism is reborn.

When his land is taken by force, Prince Jayavar of the Khmer people narrowly escapes death at the hands of the conquering Cham king, Indravarman. Exiled from their homeland, he and his mystical wife Ajadevi set up a secret camp in the jungle with the intention of amassing an army bold enough to reclaim their kingdom and free their people. Meanwhile, Indravarman rules with an iron fist, pitting even his most trusted men against each other and quashing any hint of rebellion.

Moving from a poor fisherman's family whose sons find the courage to take up arms against their oppressors, to a beautiful bride who becomes a prize of war, to an ambitious warrior whose allegiance is torn--Temple of a Thousand Faces is an unforgettable saga of love, betrayal, and survival at any cost.

READERS GUIDE INCLUDED
Praise For Temple of a Thousand Faces…
"An epic, extraordinary novel about love, beauty, and war, Temple of a Thousand Faces is sure to please."--Sandra Gulland, bestselling author of Mistress of the Sun

"[A] master storyteller..."--Amy Tan, author of The Joy Luck Club

"John Shors has made himself a reputation for recreating exotic landscapes that surround heartwarming stories with captivating details."--BookPage
Berkley, 9780451239174, 544pp.
Publication Date: February 5, 2013
About the Author
John Shors is an international bestselling author whose work has been translated into twenty-six languages.
What was your overall reaction to the novel? What parts did you particularly enjoy?
Had you heard of Angkor Wat before reading Temple of a Thousand Faces? If so, what were your original impressions of the temple and how did they change, if at all, while reading the book?
Clearly John Shors tries to bring Angkor Wat and its surroundings to vivid life. Is he successful? Can you visualize the temple and the people?
Discuss how Jayavar and his wife Ajadevi complement each other. What abilities do they each bring to their partnership? What character weaknesses does each possess, and how does the other compensate for them?
Several of the major characters are powerfully influenced by their belief in reincarnation. Why do you think the author felt compelled to explore this belief?
Who do you think is the strongest character? Who starts out weak and becomes strong? Does anyone start out strong and become weak?
Discuss the villains. Do you prefer Indravarman or Po Rame? Who do you find more fearsome? More compelling?
If you were Voisanne, what would you do after the death of your family?
Do you think that works of historical fiction serve to make the world a smaller and perhaps a better place? Why or why not?
If you could write a sequel to Temple of a Thousand Faces, what would you have happen to the characters?
or
Not Currently Available for Direct Purchase