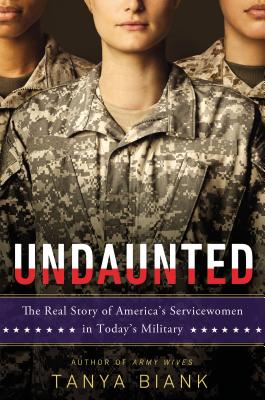 Undaunted
The Real Story of America's Servicewomen in Today's Military
Hardcover

* Individual store prices may vary.
Other Editions of This Title:
Digital Audiobook (2/9/2013)
Paperback (2/4/2014)
Compact Disc (2/10/2013)
Compact Disc (2/10/2013)
MP3 CD (2/10/2013)
Description
As she did so provocatively with military spouses in "Army Wives," Tanya Biank gives us the inside story of women in today's military the professional and personal challenges that confront female soldiers from the combat zone to the home front...
Since 9/11, more than 240,000 women soldiers have fought in Iraq and Afghanistan more than 140 have died there, and they currently make up fourteen percent of the total active-duty forces. Despite advances, today's servicewomen are constantly pressed to prove themselves, to overcome challenges men never face, and to put the military mission ahead of all other aspects of their lives, particularly marriage and motherhood. In this groundbreaking, insider's look at thewomendefending our nation, Tanya Biank brings to light the real issues of femininity, belonging to an old boys club, veiled discrimination, dating, marriage problems, separation from children, questions about life goals, career trajectories, and self-worth that servicewomen are facing by focusing on four individual stories.
Brigadier General Angela Salinas, the Marine Corps first Hispanic female general, faces the challenge of commanding an all-male institution. Second Lieutenant Bergan Flanagan finds herself on the frontlines in Afghanistan, serving in the same military police company as her husband. As a marine drill instructor, Sergeant Amy Stokley demands the very best from the recruits at Parris Island. And Major Candice O Brien deals with deployment to Afghanistan, with two young children and a strained marriage back home.
"Undaunted" is the story of these courageous trailblazers their struggles, sacrifices, and triumphs in the name of serving the country they love.
Praise For Undaunted: The Real Story of America's Servicewomen in Today's Military…
"[Biank] follows the military career of four women currently playing a vital role in today's integrated armed forces.… An eye-opening account of a military in transition."
—Kirkus Reviews
"UNDAUNTED contains fascinating multiple portraits of the real-life experiences of women in the military, from young enlisted women to a seasoned and celebrated general. Tanya Biank explores these lives with inside knowledge, compassion and wit."
—Amy Dickinson, Ask Amy columnist and author of The Mighty Queens of Freeville
"To many traditional men, especially those who have known the rigors of military service, the question often is, why would women want to take on this challenging life? By the end of Tanya Biank's fine book, UNDAUNTED, the answer is clear: because they want to do it, and they can do it." —Joseph E. Persico, author of Roosevelt's Centurions
"UNDAUNTED expertly captures the struggle women face in the rapidly changing 21st century military. If you have ever wondered what it takes for women service members to 'be all they can be,' you must read this book."
—Siobhan Fallon, author You Know When the Men Are Gone
"Whether withering under a Marine Drill Instructor's 'blasting,' jumping out of a C-17 with Army Airborne, planning operations along the Afghanistan border, or negotiating the political minefields of being a one-star general, Biank makes the reader feel you are there with four extraordinary, yet very human women who have chosen the profession of arms."
—Jeff Melvoin, Executive Producer of Army Wives
"UNDAUNTED is truly riveting. The stories remind us that while our service members gracefully bear the burden of protecting our liberties, they sometimes do so at great personal cost."
—Sue Hoppin, Founder and President of the National Military Spouse Network
"Tanya Biank's UNDAUNTED is a fascinating, eye-opening account of the women in uniform who put their lives on the line every day for the sake of their nation."
—W. E. B. Griffin, author of Black Ops
 
Nal Caliber, 9780451239228, 350pp.
Publication Date: February 5, 2013
About the Author
Tanya Biank is an author and a journalist. Her book, "Army Wives," is the basis for Lifetime s hit series, "Army Wives," and she serves as a consultant to the show. Tanya is the daughter, sister, and wife of Army colonels, and during her days as a newspaper reporter she traveled around the world with troops. Her coverage of the Fort Bragg Army wife murders in 2002 led to congressional inquiries and changes in Army policy. Her work has appeared in a number of publications, including "The New York Times.""
or
Not Currently Available for Direct Purchase